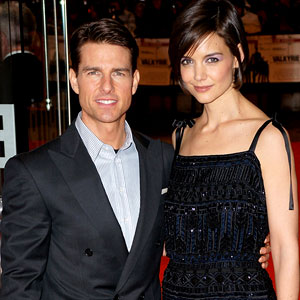 Dave Hogan/Getty Images
There have been stories going around that Tom Cruise is paying off Katie Holmes with a nice going away present to put their divorce behind him to limit any possible damage to his recently reinvigorated career.
But E! News can confirm such rumors are rubbish and that, in fact, the reason the divorce settlement between the 50-year-old Mission: Impossible star and the 33-year-old actress was over and done with so swiftly is because the pair had a prenup.
A source close to Cruise tells E! News that the intense negotiations the past two weeks between the pair's attorneys was prompted by support and custody issues for their 6-year-old daughter, Suri, which both sides were able to iron out pretty quickly.
Otherwise, most of Cruise and Holmes' dissolution of assets was pre-determined by the prenuptial agreement.
The insider also vehemently denied that Tom paid Katie "hush money" or some sort of a "lump payment"—some reports pegged the figure at upwards of $50 million—to avoid a drawn-out court battle.
Instead, according to the source, assets were divvied up per the agreement and a very fair child-support schedule was agreed upon.
Cruise, meanwhile, is currently in Mammoth Lakes, Calif., working on the set of his sci-fi thriller, Oblivion. But the source tells E! News that he plans to see Suri "as soon as humanly possible."