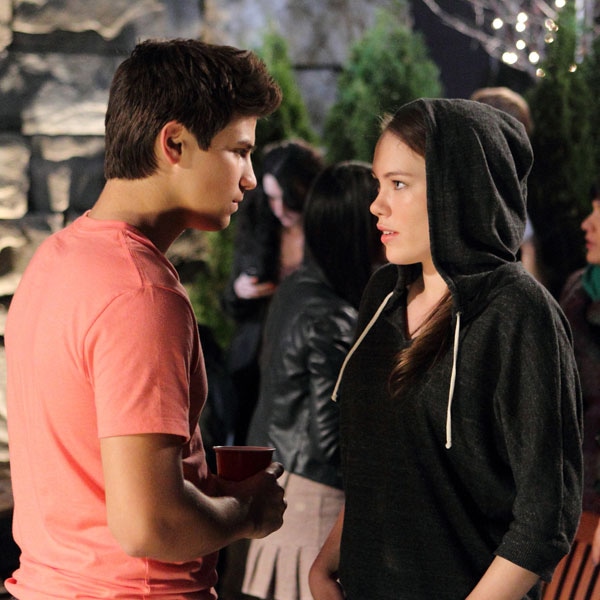 Stephen Scott/Epitome Pictures, Inc.
Hell hath no fury like a former pill popper scorned!
Degrassi and drama go together like peanut butter and jelly, and when the long-running teen soap adds the word "showdown" to its episode title...well, you know things are about to get real. Fans can expect a deliciously dramatic installment (and yes, one epic showdown) when the TeenNick hit returns for its 12th season on Monday, thanks to one fan-favorite couple calling it quits. Yep, Drew (Luke Bilyk) finally decides to end things with Katie (Chloe Rose), but will he come clean about his feelings for Bianca (Alicia Josipovic)?
So how does Katie react to the news? Find out in our exclusive sneak peek at the season 12 premiere...
Oh, Drew, haven't you watched any of the previous 11 (yes, really!) seasons of Degrassi? Secrets always come out. 
Drew is dead set on breaking up with the fresh-out-of-rehab Katie for his ex-girlfriend Bianca, but he isn't exactly honest with Katie about that. Enter Courtney, a girl Drew makes up to end things with Katie. Because these things always end so well on teen soaps!
Naturally, Katie is less than thrilled. "I am so glad I didn't lose my virginity to you at prom," Katie tells him after he drops the bomb. And when Drew asks for forgiveness? "Dream on." Yikes!
Degrassi: Showdown premieres on TeenNick on Monday, July 16, at 10 p.m. 
Tell us: Do you think Drew should have told Katie the truth about Bianca? Which girl do you think he should be with? Sound off in the comments!