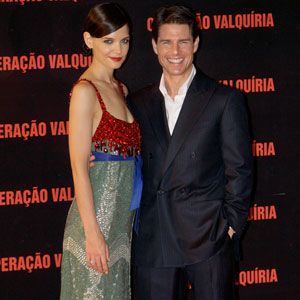 AP Photo/ Ricardo Moraes
Katie Holmes may have missed her calling. She would have made a nifty secret agent!
The actress started taking action to divorce Tom Cruise via disposable cell phone so as to keep her conversations with her lawyers private (and, it would seem, a secret from her husband), the Los Angeles Times reported Tuesday.
Well, we're not surprised by more news of Holmes' foresight in these matters.
The former Dawson's Creek star had already leased her own Manhattan apartment—where she and daughter Suri are now living—by the time news broke that she had filed for divorce from Cruise after five years.
Her divorce filing was immediately sealed, but Holmes is rumored to have stated that her marriage broke down sometime last year. She also spent part of every month for the last two years in New York, possibly as a precursor to filing for divorce in that state, where residency is required.
The L.A. Times further reports that Holmes entrusted a friend to obtain the cell phone for her, which she then used to line up legal representation in New York, where she filed the paperwork, and California.
And according to experts cited by the Hollywood Reporter, Holmes likely underwent careful planning before enacting her plan, including "using disposable cell phones and laptops to throw people off her trail. It had to have been a very cloak-and-dagger operation."
Cruise and Holmes announced yesterday that they had arrived at a mutually agreeable divorce settlement, and while their lawyers are remaining mum on details, it's being widely reported that Suri will live primarily with her mom and dad will be the visiting parent.
Holmes' attorney issued a statement yesterday noting "numerous inaccuracies" in some of the settlement reporting when it came to smaller details (such as whether Holmes wanted her own employees to accompany Suri on visits with Cruise), but no one has denied that the actress has primary custody.