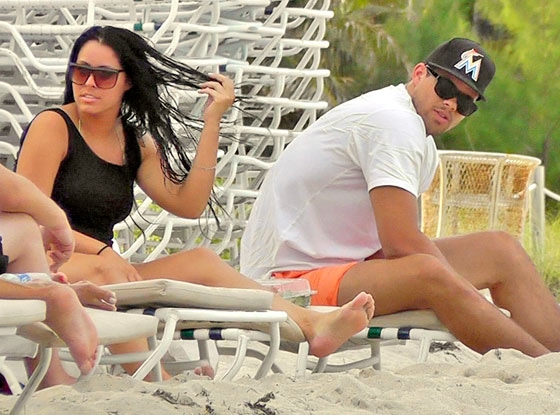 Fred Montana / Splash News
Kim Kardashian's ex Kris Humphries won't be keeping up with a kid anytime soon.
While it was reported last week that Humphries' ex-girlfriend Myla Sinanaj is three months pregnant with their baby...
Sinanaj says she's not expecting her and the basketball star's first child.
"I'm not pregnant," Sinanaj wrote to AllWestEverything.com during an interview over Twitter earlier today.
She added, "[The] preggo rummor started off a general tweet [I] made on 4th of july sayin 'ONE day can't wait to have a lil boy' not. That I was preg… Or close too. Its ridiculous they thought I'm subliminal[ly] saying I'm preg."
Sinanaj took to Twitter yesterday to try and shoot down the pregnancy reports herself. "Uhhh ooooo Loook No babyy bump!" she posted with a photo of her baring her belly in just shorts and a bikini top. "#Shocker yes I'm a thick curvy girl *All natural I'm comfortable in my skin."
Sinanaj, 25, and Humphries, 27, began dating after his split from Kardashian last year but have since broken up. "[Kris] is a dear close friend to me and we will always be friends b4 anything," she told AllWestEverything of their relationship.
Meanwhile, it doesn't seem like Humphries has been letting all the baby buzz get him down. The New Jersey Nets star hit the Red Bull Sweet 16 party last night in L.A. to support his pal Olympic ski racer Lindsey Vonn at Elevate Lounge. Later that night, Humphries hit AV Nightclub in Hollywood with a group of guy pals and partied until 2 a.m.