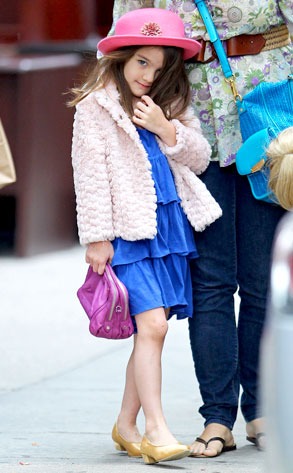 Flynet
We can't wait to see what Suri Cruise wears on her first day of school.
But before that even happens, Katie Holmes and Tom Cruise's daughter has to get into a school.
With sources telling E! News that Holmes plans to settle down in New York City, it's probably safe to assume that Suri will be enrolled in one of the Big Apple's most elite—and very expensive—private schools, where getting in can be tougher than getting accepted into Harvard and yearly tuitions run around $40,000.
Yes, $40,000!
With that in mind, we give you the first installment of "Suri and the City," E! Online's new handy-dandy guide to NYC for the world's most famous 6-year-old.
First up, we called one of our most trusted—and well-to-do—sources on the Upper West Side to get the lowdown on some of the top schools Ms. Holmes is likely to be considering.
Trinity: Founded in 1709, this Upper West Side coed institution is the oldest continuously operating school in New York State. Suri can choose from a plethora of student organizations, including the Cinematic Film's Club, the all-girls Nothing But Treble a cappella group and even a Chocolate Lover's Club.
Notable alums include Dallas star Larry Hagman, tennis great John McEnroe, as well as singer Sophie B. Hawkins, What Not to Wear cohost Stacy London and Jim Carroll, the late eccentric poet, author and musician portrayed by Leonardo DiCaprio in the movie adaptation of his drug-fueled memoir, The Basketball Diaries.
Horace Mann: It's not uncommon for students to arrive in chauffeured Escalades at this elite academy, which is located in the Bronx neighborhood of Riverdale. Classes in Latin, Greek, Mandarin and Russian are offered, and the glee club has performed at Carnegie Hall and Lincoln Center.
On The Road writer Jack Kerouac even attended for one year in 1940. The alumni list is long, with Pulitzer Prize winners, members of Congress and Pedro Alvarez Jr., third baseman for the Pittsburgh Pirates.
Spence: Talk about celebrity connections. Located on the Upper East Side, the all-girls school boasts alumni like Gwyneth Paltrow, Emmy Rossum and Kerry Washington. The creators of Gossip Girl have made no secret that Spence is an inspiration for many aspects of the series. (Brearly and Chapin are a couple of other all-girls schools that Holmes may want to look into, too.)
High School of Performing Arts: Sure, it's not private and it's only got grades 9 through 12, but it's the Fame school! If Suri decides to follow in her parents' acting footsteps, this may be the place to be. (It's officially known as the Fiorello H. LaGuardia High School of Music & Art and Performing Arts.) Graduates include Jennifer Aniston, Robert De Niro, Al Pacino, Liza Minnelli, fashion designer Isaac Mizrahi, Ellen Barkin, Amy Ryan, Chaz Bono and so many others.