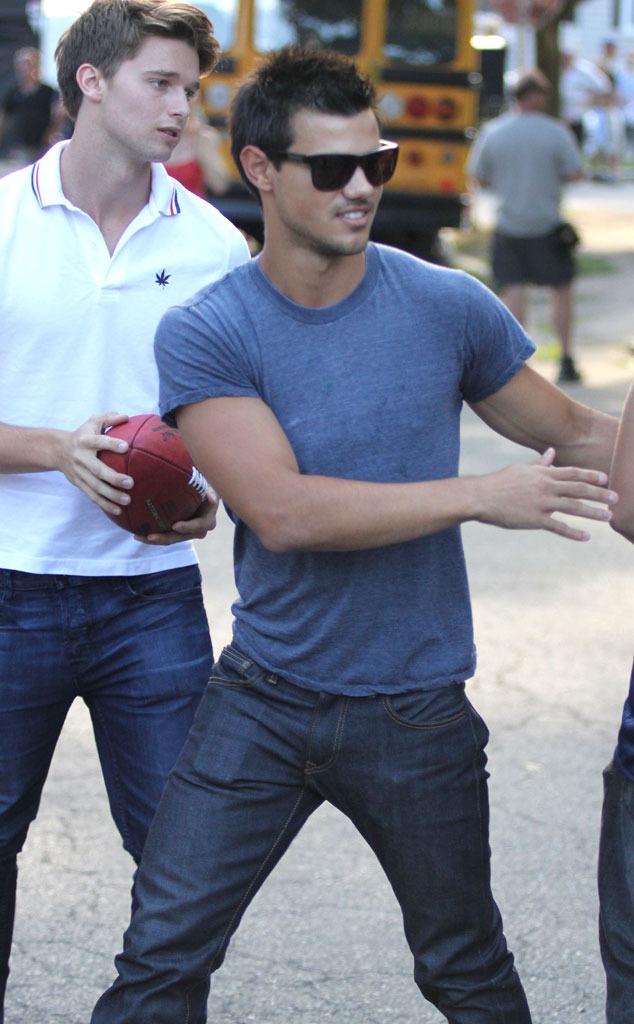 Bauer-Griffin.com
We know all about kissing costars…but what about costars who are currently kissing your ex?
Well, not so much kissing yet, but definitely having star-spangled hug sessions. Which is the case for Taylor Lautner and Grown Ups 2 costar Patrick Schwarzenegger (yes, that'd be son of Arnold), who started working on their upcoming flick.
Think a certain blond country star came up in conversation?!
Of course we're talking about Taylor Swift.
As you surely already know, the songstress dated the Twilight werewolf before splitting and penning the song "Back to December" about their relationship (at least that's what popular speculation and a lot of not-so-subtle clues led us all to believe).
Now she's cozying up with the former Governator's son. The two—along with T.Swift's close gal-pal, Glee's Dianna Agron—were spotted sailing over the Independence Day holiday. No official word on whether the duo is more than friends, but Patrick did tweet, "Best 4th of July I could ask for."
And Taylor's hair is flawless enough to rock that Kennedy connection. Just sayin'!
Here's hoping that if things do start to heat up, Mr. Lautner will be able to pass on some tips of the trade to Mr. Schwarzenegger and help him avoid inspiring a Top 40 hit of his own.
That is, if they're not too busy yucking it up on set to even get down to the (possibly awkward) discussion. The sequel stars the likes of Adam Sandler, Maya Rudolph, Andy Samberg and Chris Rock, after all, so we suspect there may be too many blooper-worthy hijinks to bother rehashing stories of love lost.