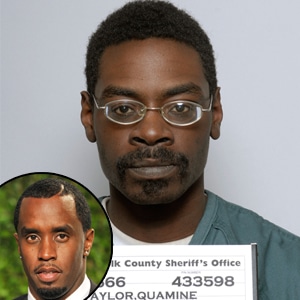 Suffolk County Sheriffs Dept; John Shearer/WireImage
Ke$ha isn't the only one who woke up in the morning feeling like P. Diddy.
Quamine Taylor, the Queens man who broke into the entertainment mogul's Hamptons mansion in April, really lived it up Diddy-style, he revealed at his sentencing Thursday.
He noshed on Sean Combs' food, smoked his cigars, drank his liquor—he even borrowed his toothbrush!
"I brought a cheesesteak, a cheesecake, a bucket of fried chicken—which I ate at the house —and drank a 'dollar' bottle of Hennessy and four cans of Pepsi," he told prosecutors, as excerpted by the New York Post.
Taylor, 30, even spruced up with Diddy's soap and aftershave before taking a nap upstairs.
And while he was busted before having spent even 24 hours in Mr. Combs' mansion, he said he "was actually hoping to stay like 5 to 17 days."
Taylor was sentenced in Suffolk County Court to time served; he'd been unable to post $2,000 bail since his April 1 arrest. He was also ordered to stay away from Diddy's property for at least five years.
This April Fools' Day stunt wasn't even Taylor's first time breaking into Diddy's home: He did the same thing in 2001 when he tried to pretend he was the rapper's cousin and was caught swimming in his pool.
Safe to say this guy's never, ever scoring an invite to Diddy's famous White Party!