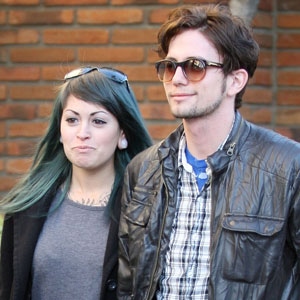 GHOST/Fame Pictures
Alert the Volturi! There's another Twi-baby on the loose.
(Yes, we know this is real life and has no connection to the film but we couldn't help ourselves.)
Twilight star Jackson Rathbone and girlfriend Sheila Hafsadi have welcomed their first child together, a son, today, according to Us Weekly.
And the little vamp boy's name is...
Monroe Jackson Rathbone VI, taking after his father and grandfather and great-grandfather and, well, you get the picture.
Baby Monroe was born at 9:43 a.m. this morning and weighed 8 pounds, 11 ounces.
"Thank you ALL for the love & support! Sheila & I couldn't be happier to have such a beautiful, healthy baby boy, Monroe Jackson Rathbone VI," he tweeted, "Feeling so blessed! What an amazing day! Love and respect, Bone Daddy."
He also posted a twitpic of him lighting up a celebratory cigar.
Rathbone revealed to E! News that he was going to be a daddy just last month. "I did something I never thought I would ever do," he told us. "I sent a picture over on Twitter of my son's unborn penis. I had to do it. I was so proud in the moment. I literally screamed when I found out in the doctor's office."
Awww! You have to admit that's kinda sweet. And it probably won't be the last time he does something like that.
"I've been wanting a kid for a long time," Rathbone admitted. "I'll have more—probably two or three."
Here's to hoping the long nights and poopy diapers don't change your mind.
—Reporting by Marc Malkin