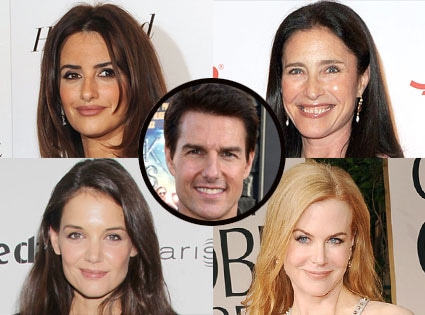 Getty Images
Sure, Tom Cruise and Katie Holmes have hired high-profile divorce lawyers as they gear up for a legal showdown over custody of their daughter, Suri.
But maybe what they really need is...a psychic?
Eerie coincidences have cropped up between TomKat's split and those of Cruise and his other exes, including ex-wives Nicole Kidman and Mimi Rogers, as well as former ladylove Penélope Cruz.
Freaky-deaky flukes or cosmic convergence? Let's suss them out...
Unlucky Number 33: Talk about a triple-header! Uncanny as it may be, Holmes, Kidman and Rogers were all 33 years old when divorce proceedings began. (Cruise filed for divorce for his first two marriages, while Holmes initiated proceedings during this go-round.) Is there a significance to that number? A few theories abound: One proposes that the first Church of Scientology was founded in Phoenix, Ariz., which is located smack-dab on the 33rd parallel. Another points out that, among several religions, the number 33 is often associated with spiritual enlightenment. Whatever the reason, when it comes to Cruise, big news definitely comes in threes.
Legal Deadline Looming? Cruise and Holmes have been married for five-and-a-half years, while he and Kidman were together for nine years and 11 months. In both cases, divorce proceedings seemed curiously timed to significant legal deadlines. In Kidman's case, Cruise filed for divorce just shy of a 10-year threshold that would guarantee her spousal support for life. (Kidman's attorney would later claim that the couple had been married for 10 years, two months and two weeks; the couple eventually settled for an undisclosed amount.) Meanwhile, in the case of Holmes, E! News has learned that she and Cruise had a prenup that reportedly called for payouts to her in the event of a divorce, with specific amounts kicking in after five years of marriage, and another after 10.
Welcome to Rebound Road! How's this for an eerie coincidence: The Manhattan building where Katie Holmes has secretly rented an apartment to hunker down post-split is reportedly the same building where Cruz decamped after calling it quits with Cruise in 2004. Location, location, location! In the case of Cruz, the couple supposedly broke up because their busy shooting schedules kept them apart, but they've reportedly remained good friends since.
The Scientology Connection...or Lack Thereof: Although Cruise remains a devout Scientologist, his exes seem to have been anything but. Speculation has run rampant that the religion played a key role in his split with Holmes, and the church recently shot down reports that it dispatched a surveillance team to monitor her activities. Cruz, on the other hand, enrolled in Scientology courses that, her rep said at the time, she found "beneficial," but she never made the full conversion. In the case of Kidman—who was raised a Catholic—rumors swirled that the actress took a dig at Scientology when, years later, she and hubby Keith Urban would christen their daughter Sunday, supposedly alluding the name's Catholic significance.
Divorce = Box-Office Poison? Here's a fascinating tidbit: Cruise notched a box-office bomb during each of the years he'd undergone a divorce. In 1990, during his split from Rogers, he unleashed Days of Thunder, a critical and commercial disappointment made all the more glaring by the fact that he was coming off of an Oscar-winning smash (Rain Man) and an award-winning performance (Born on the Fourth of July). In 2001, after calling it quits from Kidman, he debuted Vanilla Sky, which earned less than half of the grosses of his previous flick, Mission: Impossible II. And last month, he lobbed his biggest box-office bomb in years when his highly anticipated hair-metal opus Rock of Ages opened to a paltry $15.1 million—two weeks before hitting splitsville with Holmes.
—Additional reporting by Claudia Rosenbaum