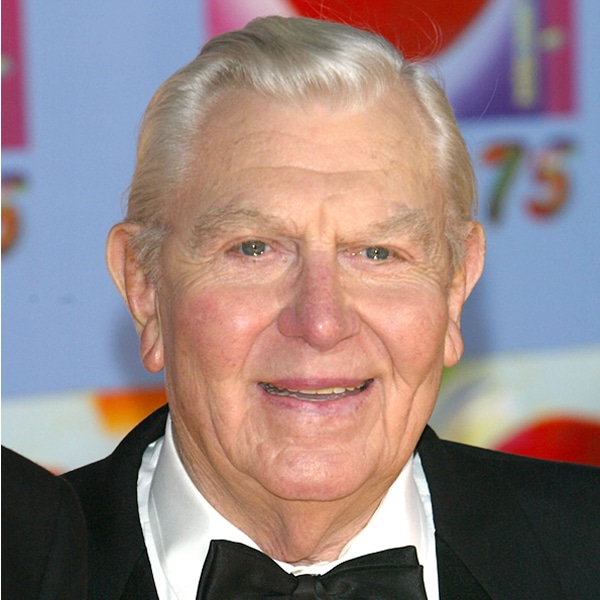 Matthew Peyton/Getty Images
Say the name Andy Griffith, and you've said something about America.
Griffith, who as Sheriff Andy Taylor on the actor's namesake 1960s TV comedy kept the peace and represented a heartland ideal, died Tuesday, the actor's friend Bill Friday told WITN News. He was 86.
In addition to The Andy Griffith Show, Griffith created a darkly iconic character in the 1957 film A Face in the Crowd and won fans in the long-running whodunit series Matlock. But in the end, it was Mayberry that put him on the map.
From 1960 to 1968, Griffith's kindly sheriff raised a son, Opie, played by Ron Howard, and a high-strung deputy, Barney Fife, played by Don Knotts. That Taylor, a white lawman in the Civil Rights-era South, became a model of fairness was a tribute to the series. And to Griffith.
"We—everyone on the show—have a real sense of community, of kindness, toward one another," Griffith told The New York Times in 1965. "The basic rule by which we live comes through...the kindness comes through."
Born June 1, 1926, in noplace else but North Carolina, Griffith tapped his country roots for laughs in a popular 1950s comedy monologue that begat TV appearances, which begat Broadway and film work, via the Army comedy No Time for Sergeants.
Griffith traded on his aw-shucks persona as two-faced populist Lonesome Roads in Elia Kazan's A Face in the Crowd. Now considered a classic, the film "didn't make a dime" back in the day, its star once recalled.
"I'd struck out on Broadway, and I'd struck out in the movies, so I kinda had to go to television," Griffith said in 2008. 
From the start, The Andy Griffith Show, with its classic, catchy whistling theme, was an audience and critical favorite. Griffith, however, never won an Emmy for the series, nor was he ever nominated for it. Knotts, who won five straight Emmys as the fumbling Fife, would say people thought mistakenly that Griffith wasn't acting, that he was just acting natural. Griffith would return the compliment, saying the show owed its early success to Knotts, who died in 2006.
The Andy Griffith Show went out on top. Griffith himself pulled the plug: Knotts, after all, had left the show for the movies a couple of years earlier, and he wanted to try film, too.
But the film thing didn't work out for Griffith. And when he returned to TV, that didn't work out either, as he starred in one failed series after another after another. A crippling bout with the viral Guillain-Barré syndrome in the early 1980s was yet another blow.
"I thought I was hot stuff, and I'd be able to do anything I wanted," Griffith recalled in 1986. "I couldn't."   
Then Griffith went back home. To Mayberry.
(Originally published July 3, 2012, at 7:27 a.m. PT)
The 1986 TV movie Return to Mayberry, reuniting survivors of Andy Griffith's original cast, was a hit. That fall, Matlock premiered. The rejuvenated Griffith went on to play the Southern defense attorney for more than a decade.
Among latter-day roles, Griffith rated Oscar buzz for playing the sage if exacting diner owner in 2007's Waitress, and stumped for President Barack Obama in a 2008 campaign ad directed by Howard, his TV son turned Oscar-winning filmmaker. (More controversially, he appeared in a 2010 TV ad that promoted the Obama-backed health-care law.)
In 2005, on the occasion of the actor receiving the Presidential Medal of Freedom, then-President George W. Bush neatly defined the man and where he stood in the collective American consciousness: "TV shows come and go, but there's only one Andy Griffith."