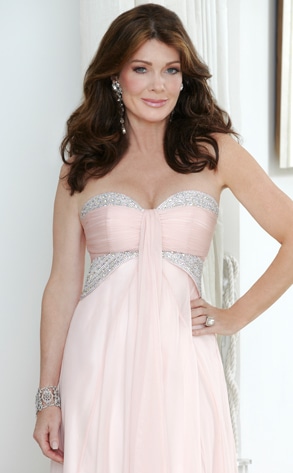 Richard McLaren/Bravo
Although the mansion is no longer hers, Lisa Vanderpump said she was "pretty emotional" when she heard her former Beverly Hills home was on fire.
"I'm shocked, really," the Real Housewives of Beverly Hills star told KCAL-TV. "It's been an incredible journey coming to America and living there. My daughter got married in that house, so I'm pretty emotional about it even though I sold it a few months ago."
The massive home, which appears in the opening credits of the Bravo show, was featured many times on the Real Housewives of Beverly Hills, particularly when her daughter, Pandora, tied the knot on its grounds.
"She got married there in the fall, as everybody who watched RHBOH saw, and it was amazing, and that's what I want to think of it," Vanderpump continued.
The fire was reported at about 6:30 p.m. Friday night, according to Los Angeles Fire Department spokesman Erik Scott. More than 100 firefighters responded to extinguish the flames.
A portion of the roof and portions of the floors collapsed due to the fire, and one firefighter was injured and transported to a hospital.
As for reports that the fire spread to neighboring homes, Scott said, "The fire was contained to the residence of origin. Firefighters worked aggressively to ensure the flames did not spread to nearby residences or thick brush."
Vanderpump and her husband, Kenneth Todd, sold the home in September for about $19 million after both of their children moved out, according to KCAL, and downsized to a smaller home in the area. 
—Reporting by Holly Passalaqua