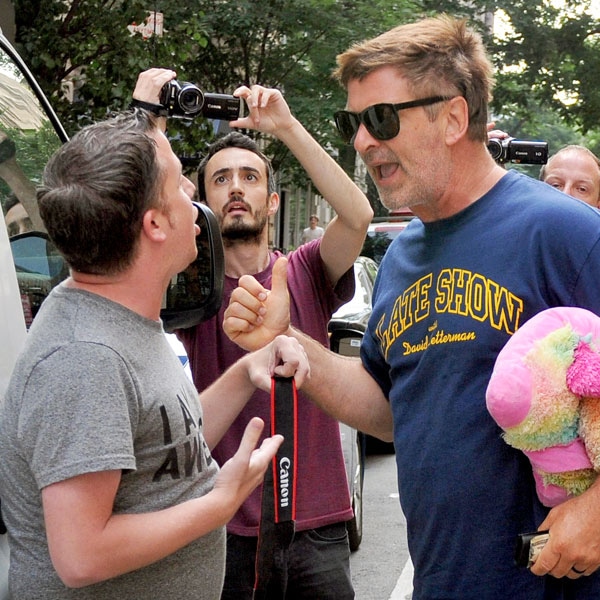 Ordonez/JT/INFphoto.com
Here comes the groom!

Alec Baldwin's guarding his privacy something fierce these days, especially considering he's expected to tie the knot tomorrow with his yoga instructor fiancée, Hilaria Thomas.
So it comes as little surprise that the hot-headed 30 Rock star got himself into yet another physical confrontation, this time with an aggressive paparazzo staked out in front of his apartment building this morning.
Prewedding jitters, perhaps?
In a video shot by INF and Splash News, a scruffy-looking Baldwin, wearing shades and a Late Show With David Letterman T-shirt (and carrying a pink stuffed animal under his arm), approaches a photographer on a Lower Manhattan residential street and appears to grab the man by the arm and blasts him for harassing Baldwin's neighbor.
"You're breaking my arm," the photog says.
The 54-year-old Emmy winner let go and walks away. At that point the shutterbug can be heard yelling, "All we're doing is taking your picture!"
At that point Baldwin turns around and gets back in the guy's face, growling: "Leave my neighbor alone."
"I was just telling you to have a good wedding," the man responds.
To which Baldwin retorts: "I want you to shut the f--k up and get out of here…shut up! Leave my neighbor alone. Did you hear what I said?!"
And then, just before retreating to his building, Baldwin gets in one more, calling the photographer a "little girl."
This is the latest run-in Baldwin's had with photographers. On June 19, a newspaper photographer accused Baldwin of roughing him up as he and Thomas were leaving New York's City Hall after obtaining their marriage license. His rep stringently denied any punches were thrown. Earlier this week, he reportedly called police after he felt paparazzi were getting too close as he spent a day with his daughter.
While Baldwin today has remained uncharacteristically silent on Twitter, his ladylove addressed the issue.
"The paparazzi are abusing the first amendment. It's high time that we update & clarify it as technology has progressed & values have changed," she tweeted a few hours after the incident, before adding, "There is a balance btwn the public eye & private boundaries. Not only do they harass & block our path to & from home but also our neighbors'."