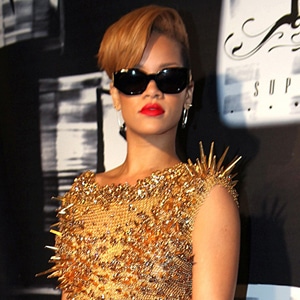 Shareif Ziyadat/FilmMagic/Getty Images
The cops accused of illicitly leaking photos of Rihanna's battered face may have escaped charges but that doesn't mean they will go unpunished.
After a three-year internal affairs probe, the Los Angeles County District Attorney's Office confirmed that it has no plans to file criminal charges against two LAPD officers for releasing the brutal pics in the wake of the February 2009 beatdown Rihanna received at the hands of then-beau Chris Brown, citing "insufficient evidence."
In a charge evaluation worksheet filed March 28 and released this week, Deputy District Attorney Amy Pellman Pentz concluded that investigators found no indication that Officer Rebecca Mendez Reyes leaked the image of the R&B star's bruised face to TMZ, the outlet which first published it, in return for a hefty payment.
However, the prosecutor did note that Reyes used her cell phone to snap a picture of the photo and then forwarded the image from her phone to her work email address, and then on to her personal email address.
Investigators determined that a second officer, Blanca Estrella Lopez (who also happened to be Reyes' roommate), called TMZ four times on Feb. 8, 2009, and phoned Fox Television three times.
"However, no additional evidence suggests that Reyes or Leopz provided this photograph to TMZ," Pentz wrote. "The investigation reveals that several other LAPD personnel also possessed this photograph. Moreover, a search of Reyes' and Lopez's bank accounts failed to locate any payment by any media outlet. As such, although both Reyes and Lopez's actions are suspicious, they are insufficient to support a criminal prosecution."
While the officers, who were suspended during the investigation, may be off the hook criminally they may not keep their jobs for long.
Per the Los Angeles Times, LAPD officials have set disciplinary hearings for both officers in August, which could lead to their firing.