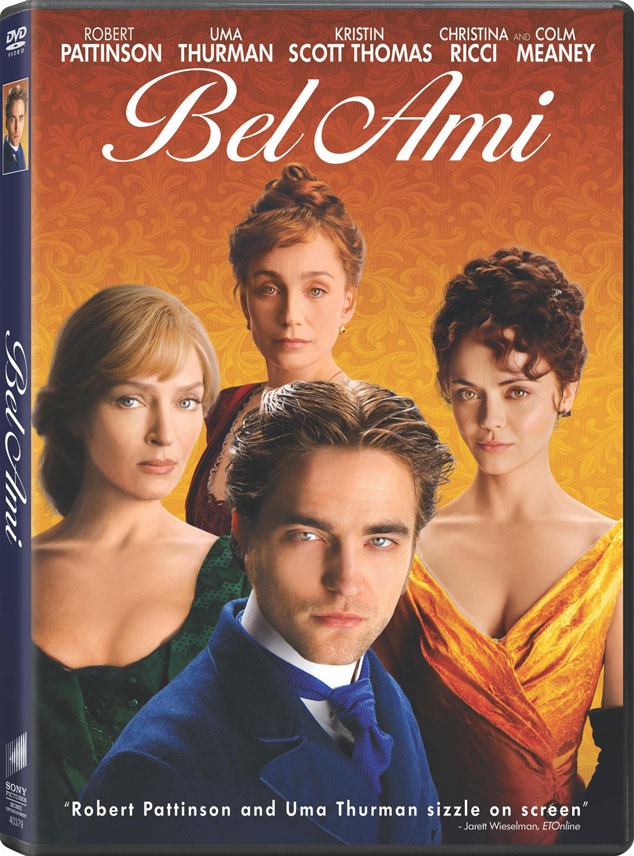 We first told you just how deliciously sexy Robert Pattinson gets in Bel Ami (in case you forgot, his onscreen ego Georges Duroy literally has sex with everyone) and we can't get enough of R.Pattz's smoldering stare.
And in case you missed out on Rob's steaminess, we're here to feed your R.Pattz-loving hearts with an exclusive sneak peek of the Bel Ami DVD cover art—from which Rob's baby-blue eyes practically speak to our souls—and the news that the disc is coming soon for your repeat-viewing.
Uh, Edward Cullen who? We're loving R.Pattz in all his Georges Duroy glory.
In case the sizzling cover art doesn't pique your interest, there are still plenty of reasons why you should peep this DVD, debuting on Aug. 7.
For starters? You see Rob's butt. Ya hear that, people? Robert Pattinson shows his ass.
What's more? The DVD includes a special behind-the-scenes featurette (perhaps K.Stew makes a cameo?!) where you're sure to feast your eyes on plenty of backstage steaminess.
Now, Bel Ami didn't exactly fare well at the box office, or with critics (it only has 1.5 stars on Rotten Tomatoes) but the flick opened in a handful of selected theaters on June 8 and isn't your typical big-screen blockbuster. If indie flicks (and serious sex) are more your style, then this movie's definitely worth checking out.
Based on the novel by Guy de Maupassant, the film also stars Christina Ricci, Uma Thurman and Kristin Scott Thomas and the ladies look oh-so-18th century on the DVD cover. We also love how Rob stands out in the center with that "come hither" stare—seriously, can you blame the dude for banging every woman in sight?!
Since we know you've already finished all three of the Fifty Shades racy reads, we'll suggest this DVD for your daily dose of sex.
Get your head out of the Christian Grey gutter, people! R.Pattz is where it's at.
Bel Ami debuts on DVD Aug. 7.