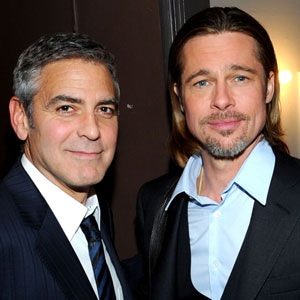 Michael Buckner/Getty Images
Oh, to be the martini olives at that table.
George Clooney, Brad Pitt and another male friend enjoyed dinner and drinks Tuesday night on the outskirts of London at Pazzia, a cozy Italian restaurant with a reputation for fine food and apparently celeb-worthy service, a source exclusively tells E! News.
So, what exactly did this guys' night out entail?
A source tells us that Clooney chowed down on seafood pasta and sipped gin-and-tonics, and while we don't know what Pitt ordered to kill those hunger pangs, he was drinking martinis.
"They were so polite to the waitress and giggling away," the insider said. "They were relaxed as if it was their local restaurant, like normal people."
Tell that to the "normal people's" fellow diners!
The Berkshire restaurant isn't too far from the White House-reminiscent home that Pitt and Angelina Jolie are leasing while she shoots Maleficent. Clooney popped into town fresh from time spent at his Lake Como home with girlfriend Stacy Keibler.
—Reporting by Brandi Chang