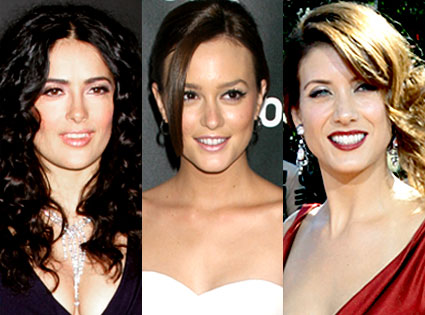 Dan Herrick/ZUMA Press; Nancy Kaszerman/ZUMA Press; Chris Carlson/AP Photo
Howdy, gang! Tons of TV goodies to cover today, so let's get right into it!
Laura in Santa Cruz, Calif.: So, so, so happy The Office is back! Do you have any spoilers?
So, so, so many! Not only do I have the answers to the Spoil-o-Rama game, I got a sneak peek at Thursday's awesome ep, "Business Ethics." The Office is back, and it's kicking booty. Check the spoiler section below for all the dish.
Julie in Springfield, Mo.: Any info on the upcoming Project Runway finale?
I suspect that in this Wednesday's episode, the first part of the two-part finale, Tim Gunn challenges the remaining contestants to create a wedding dress because every collection was topped off with a grand, formal, wedding-ish gown. Is that a coincidence or a challenge?
Dino in Seattle: OMG. Loving Fringe. Are we going to see more of the Observer? I think he's an alien.
That's a definite yes on more of the Observer, and I think he's from the future. I'll post more Fringe dish in the mornin' to tide you over, because Fringe (and most of our fave Tuesday shows) will not air tomorrow evening. Most networks will be preempting regular programming in favor of being all civic-minded and airing the Tom Brokaw-moderated second presidential debate.
Lolo in Paris: Have you any scoop about Chuck and Blair on Gossip Girl?
You mean besides the fact they totally frakking rock? Well, according to Leighton Meester herself: "I think Chuck is for Blair just like Blair is for Chuck. They are perfect together. But I think that the whole thing with them is that they fight. If you saw them kissing and making up all the time or being best friends walking around town, it would be kind of boring. But maybe it will work out. I know that there is definitely a lot of back and forth material between them. There's a lot coming." Yay! P.S. There's more Gossip Girl goodness in the spoiler section if you want it, and I know you do.
Kath in Anchorage, Alaska: You don't cover it much, but anything on The Big Bang Theory? It's a real fave at our house.
The Big Bang is actually getting a little sexy. According to Sara Gilbert at the Flo TV/CBS Comedies Premiere Party, Sheldon (Jim Parsons) and her character, Leslie Winkle, might be developing a real thing for each other: "There's a lot of tension between us—Sheldon says it's sexual tension. That's his theory. The surface tension between them is differing opinions on physics. He likes string theory, and I like quantum something, but there is a deeper clash." Awww, nerds in love are the cutest.
Sam in Detroit: Got any Lost goodies?
Yep, several bites from Jorge Garcia, whom I caught up with at the Emmys:
Who is Hurley hanging with these days? "It's safe to say I'm working with people who are off the Island—I can even say I'm working with Michael Emerson, Ben. He does most of the talking—and he didn't thank me once for that candy bar." Ooh, that stinker!
What about Ben's mission to get the gang back to the Island? "I think Hurley is leaning toward regret of having gone off the Island, but I don't think he's at the point where he wants to go back, just yet. But it does seem that the Island is pulling us back, some way or another."
What about Hurley and the glorious dead—are they still chatting? Said Jorge, "Yep, and it seems like it doesn't even faze Hurley any more."
Last but not least, will the Oceanic Six ever become friends again? "Don't know. Don't know at all." Sob.
Anders in Omaha, Neb.: Where are The Office spoiler-game answers?!
Here they are. Keep in mind I know the true ones to be true, but the false ones could end up being true, too...We'll see!
Pam cheats on Jim: false
Dwight births a watermelon: true
Angela and Andy make sweet, sweet love: false
Dunder Mifflin gets robbed: true
Jim gets in an accident on the way to see Pam in New York: false
Dwight bids on Phyllis in an auction: true
Phyllis blackmails Angela: true
Creed leaves Scranton to join a rock band: false
Andy has no man parts: false
Kevin could be the father of Jan's baby: true
Michael names Jan's baby "Ass-turd": true
Ryan and Kelly get engaged: false
Anna in Dallas: It's almost been two whole weeks since we've seen The Office, I want some scoop!
Meredith is in trouble! In this week's episode, "Business Ethics," the office will discover that she's been whoring herself out for supply discounts. We also find out a few other juicy tidbits about the Dunder Milfflinites: Someone downloads pirated music, someone called immigration on Oscar and someone has "never" stolen company time. Any guesses as who is who?
Florencia in Argentina: What's the scoop on Michael and Holly Flax on The Office?
Holly (Amy Ryan) and Michael (Steve Carell) have their first lunch date during "Business Ethics," and it doesn't go very well. Not only does Michael throw away her lunch, but he proceeds to talk about chastity belts throughout the meal. Poor Michael—or really, poor Holly.
Matt in San Diego: Hiro and Ando are my favorite. Are we going to see them interact with any of the old Heroes from season one?
I'll let Masi Oka take this one: "You don't see them really interact with any of the season-one Heroes until episode eight or nine, and then we'll see him interacting with people he hasn't interacted with before."
Miranda in Auckland, N.Z.: Any Heroes goodies, especially about the Petrellis or the Bennets?
Claire and HRG are headed for a showdown of sorts. As Jack Coleman told me: "Around episode five, Claire and Noah collide in a most unexpected and kind of horrific way—I don't mean horrific...I just mean as a father, let's just say she just turns up in a place where I'd least like her to turn up when I'm doing work that I don't want her to know about." I'll tell you more about this disastrous collision in the "What's to Come" section of tonight's Heroes Redux.
P.J. in Chicago: Hey there baby mama! Wondering if you could bear to part with some Nathan or Peter Petrelli scoop?
How about Nathan scoop? Have I told you already that Nathan gets his head sliced open this season? No? OK then: This season on Heroes, Nathan gets his head sliced open, Sylar-can-opener-style. Whaaat?!
Sasha in Washington, D.C.: I heart Tim Daly as Pete on Private Practice. Please tell me he'll get some lovin' this year since Addison is running off with the SWAT guy!
Addison's (Kate Walsh) rejection does not go over so well—Pete's reaction involves grabbin' Violet's (Amy Brenneman) booty in the next episode. Also, the docs are freaking because they can't find new clients to come into the Wellness Center.
Harold: Please tell me you have some dirt on what's in store for Kevin and Scotty on Brothers & Sisters this season!
Kevin will be going back in the closet when he has to attend a big work dinner. He leaves Scotty behind and takes tips from the other couples on how to deal with a new bride at home.
Jamie McCarthy/WireImage.com
Michelle in Greencastle, Ind.: Need. Gossip. Girl. News. Please.
You know how Serena hooks up with that artist kid, Aaron Rose? Well, Serena's better half, Dan, ends up dating Aaron's ex, Lexi. (Ah, what a tangled social web those Upper East Siders weave.) Also, and this is complicated, so pay attention: Chuck and Blair meet their clones, Chuck 2.0 and Blair 2.0, and end up giving their respective doppelgängers advice on how to hook up with the 2.0 version of themselves. Hopefully in the midst of all that, the original flavors of Chuck and Blair will realize that they are madly in love and will get back together already!
Trey in West Hollywood, Calif.: All anyone talks about on How I Met Your Mother is whether or not Sarah Chalke is the mother. Can't we hear any other scoop?
Yes, you can. Now that Marshall (Jason Segel) has a new job, Jason said, "I think that slowly you'll see my soul get sucked away by corporate law." Awww, but at least he and Lily will be moving on with their lives and getting a new place, maybe that will help?
Louise in Cincinnati: There's been a lot about Ted and Stella lately, but I'm hoping for some Robin or Lily spoilers for How I Met Your Mother, if you got 'em.
I got your Robin right here! According to Cobie Smulders at the Flo TV/CBS Party: "My character moves to Japan. She's on a Japanese-ish game-show-news channel. It involves a monkey. It's pretty funny."
Shellie in Atlanta: I can't believe Cristina got pushed down the stairs on Ugly Betty! Is the baby OK?
Yes, the baby will be fine, other than the fact that its mom is Wilhelmina. Christina won't be the only person who goes down those stairs though. It looks like Wilhelmina, Betty, Marc and Amanda will take a spill as well. People should really be more careful!
Jim Spellman/WireImage.com
Debra in Mountain View, Calif.: Anything new on 30 Rock, my favoritest comedy ever?
Did you see the N.Y. Post's report that Salma Hayek might be appearing in two episodes? The studio has not confirmed the appearance, but my Spidey-sense tells me it's likely to happen. And did you see that Tina was shooting scenes outside 30 Rockefeller Plaza/Center with Peter Dinklage? Remember what Tina said ages ago when asked who she'd most like to play a love interest for Liz Lemon? Peter Dinklage! In other news, Jack returns from his government job armed with the knowledge that Dick Cheney is mostly made of metal, and we learn of yet another embarrassing gig in Jenna's past: She did a commercial for a Japanese soft drink called—wait for it—Whizz.
Tania in Sudbury, Canada: Hey, I know you love Pushing Daisies as much as I do. Is there any chance that Paul Reubens will be returning this season?
You, the readers, have the power to bring Paul Reubens back to the show—so says Daisies boss Bryan Fuller: "We would love for him to come back, and we would encourage anybody and everybody to write ABC and talk about how much they love him and would love for him to come back." Can we start a campaign for Pee Wee to be on the tube again?
Judith in Somers, N.Y.: Love, love, love Pushing Daisies! Will Molly Shannon ever come back as Dilly Balsam now that she has her own show?
Take it away, Bryan Fuller: "We actually had a way to have an arc with her in the first part of the season, and then we were debating on if we should we kill her character off, and then we thought, no let's wait and hopefully she'll be available to do the show again, because she just fit right in with the cast."
Ace in Pittsburgh: Are we going to get more Emerson Cod action on Pushing Daisies this year?
Yes, and he gets some action in the ep "Dim Some Lose Some," airing Oct. 29. Chi McBride said, "Emerson might get a little busy. The girl Simone from the 'Bitches' episode is going to come back."
Kim in Tampa, Fla.: I just finished the first season of Eli Stone on DVD, and I am already going into withdrawal. Got any scoop to hold me over until the new season starts?
There are actually two people whose lives are in dire jeopardy when the show returns on Oct. 14. One has trouble of the brain; the other's life is endangered at a bank, and they are both very important men in Eli's life. Any guesses?
Ashton in Portland, Ore.: Any chance Eli and Taylor will get back together on Eli Stone?
Not likely. Taylor (Natasha Henstridge) and Dowd (Sam Jaeger) are actually going to go up against Eli in court, and the verdict could mean life or death for someone we know and love.
Jessica in Manchester, N.H.: Supernatural is ridiculously good this season. Dish?
I agree! Supernatural became downright epic overnight, and I love it. In a midseason episode, we'll meet Anna, whose brain is a veritable wiretap of the angelic realms, and through her we'll learn that the angelic hosts remain deeply fascinated by Sam and Dean.
Joanne in Maine: More Mode—err, Ugly Betty please!
A fall down the stairs isn't the only bad thing heading Cristina's way. We've seen how her husband is digging into drugs again, but he actually has a good reason.
Elana in Santa Monica, Calif.: Chuck is so good. Spill!
We'll meet li'l Chuck and li'l Morgan in a midseason episode. Look for a flashback to their misspent, hilarious youth in Tarzana, Calif.
Missy in Colorado: How great are Max and Casey on Greek?! Please tell me she doesn't screw this up—as much as I love Cappie and Casey, Max is just too perfect!
She doesn't completely screw it up—on her own at least. Remember that alum from Zeta Beta who slipped her a card last week? Well, Casey may just ditch Max for the summer to try her hand at politics.
Sam in San Francisco: May we please, pretty please with sugar on top have some Reaper scoop? It was overlooked last year, being a CW show, and is being overlooked this year as a fantastic returning show. Plus, Bret Harrison is adorable. Thanks!
I agree on all counts, and Rick Gonzalez (Ben) has your scoop: "We're revealing a little bit more of Sam's past and we're going to reveal Ben's love life a little more. Of course, Ben is a very sensitive person, and he wants love, and I think he finds it. Oh, and Sock is going to be enticed by someone new in the household." Pssst...I also have a sneaking suspicion that Ben's new love is of the demonic persuasion!
Sharon in New Bethlehem, Pa.: Wow, so Rita's pregnant on Dexter. Love that. Is she going to be an unwed mother, or is Dex going to step up and do the right thing?
Mmmm...well, the title of the season finale is "Do You Take Dexter Morgan?" As in "Do you take Dexter Morgan to be your lawfully wedded husband?" Dun-dun-dun!
Tom in Vancouver: Is Damian Young going to be on Californication at all this season? It seems weird to me that they left his storyline hanging, and yet his daughter Mia is still hanging around. He'll be back later, right?
No, he won't! Crazy, isn't it? I asked Showtime about this after Bill didn't pop up in the first four eps to at least wrap things up with the Hank-Karen-Bill love triangle, and I'm told Damian Young isn't on the show at all this season. I agree that it feels a bit incomplete, story-wise, especially with Mia inexplicably hanging around, but I love Madeline Zima in the role, and Mia always did have endless chutzpah, as they say in Tinseltown. Hee.
And that's all for now, folks! The comments are open for your reaction to the chat, tvdiva@eonline.com awaits your questions and the Heroes Redux will be posted later tonight to assist you with all your Petrelli-related needs. See you then!
—Additional reporting by Natalie Abrams and Jennifer Godwin