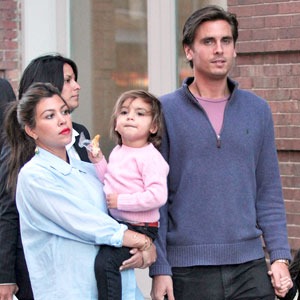 Bauer-Griffin
Look out, world: there's an adorable new Kardashian to keep up with now!
Kourtney Kardashian and Scott Disick have welcomed their second child—and first daughter—E! News has exclusively learned.
The baby girl was born early Sunday in Los Angeles at Cedars-Sinai Medical Center and joins big brother Mason in the ever-expanding Kardashian-Disick household. So how did the birth go down? And, most importantly, what's the cutie pie's name?
Let's say hello to Penelope Scotland Disick.
"Scott and I are overjoyed to welcome our precious angel Penelope Scotland Disick into our lives. We are forever blessed. Mommy and baby are resting comfortably," Kourtney tells E! News.
The 33-year-old E! star had an all-natural birth, and her new mini-me tipped the scales at 7 pounds, 14 ounces.
"It was a great. She had an easy delivery," matriarch Kris Jenner tells us. "[Penelope] is so cute. She looks just like Mason. She's so beautiful. We are so happy."
As it happens, this has been one highly anticipated birth (complete with a headline-grabbing false alarm), and not just among the fans.
Kourtney and Scott announced the news of the impending stork delivery last November, and revealed that they were expecting their first daughter in February of this year (son Mason turned the big 0-2 in December).
In May, the family—along with Kim Kardashian's beau, Kanye West—celebrated the baby-to-be with a femme-fueled, pink-themed baby shower.
As for the million-dollar question: as Mason's birth was must-see TV, are the proud new parents going to once again share with fans the miracle of life?
"I don't know," Kourtney said on the Tonight Show a few weeks ago. "We're gonna film it again ourselves, and honestly, my experience last time was so peaceful and calm and everything you don't see in the movies. And I really wanted to share that with people so they knew it doesn't have to be a crazy screaming session."
This time around, we'll have to wait and see. While Kourtney said she and Scott planned on filming the birth, they would decide after the fact if they were going to go public with the footage. And something tells us that's not their biggest priority at the moment.
Congrats, you two!