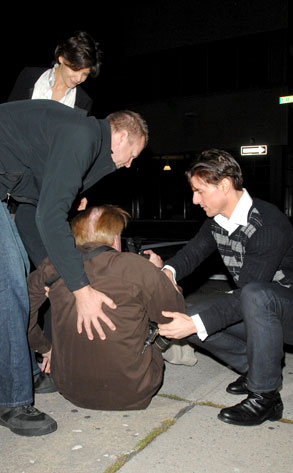 Splash News
Seeing Tom Cruise assist a fallen photog in NYC this weekend naturally conjures up memories of some his other past "rescue missions," and it got us thinking.
Could it be that Cruise's intense superstardom, coupled with that killer grin, might inadvertently be at play here?
In the case of the stumbling shutterbug, for instance, is it possible the actor's million-dollar smile was even more blinding than the cameraman's flash, leading to this loss of balance?
Similarly, drivers who have lost control of their vehicles over the years only to have Cruise stop and assist them, may simply have been, unknowingly, at an unsafe proximity to his star wattage.
And if Cruise is aware of this possible phenomenon, then lending a hand is not just the polite thing to do—it's an obligation.