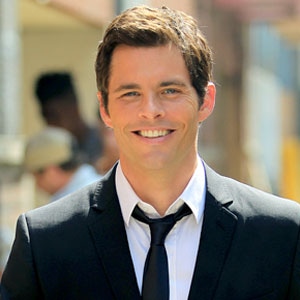 Splash News
It turns out James Marsden is becoming a daddy for the third time.
E! News exclusively confirms that the X-Men star, who separated from his wife Lisa Linde in 2011, has learned that he will be welcoming a new bundle of joy into the world.
So, who's the mommy?
No, it's not Kirsten Dunst, they were just gettin' hot and heavy for a movie.
Apparently, the mother-to-be is a model who Marsden was dating shortly after his split with Linde.
"A girl he dated after he separated from his wife has told him she is four months pregnant." a source close to the expecting mystery woman told E! News. "She is very excited to be a mom."
The actor was in Hawaii last week being honored at the Maui Film Festival with the Nova Award, and he didn't seem too preoccupied with a pregnancy bombshell (at least he didn't show it).
Marsden was seen hangin' at the beach, going for an almost-all-day mountain bike ride and was even spotted at a local bar doing karaoke ("Bennie and the Jets," maybe?).
James already has two children with his estranged wife, a son Jack Holden and a daughter Mary James. Lisa filed for divorce in September 2011 after being married for slightly more than 11 years.
—Reporting by Marc Malkin
(Orignially published June 21, 2012, at 7:33 p.m. PT)