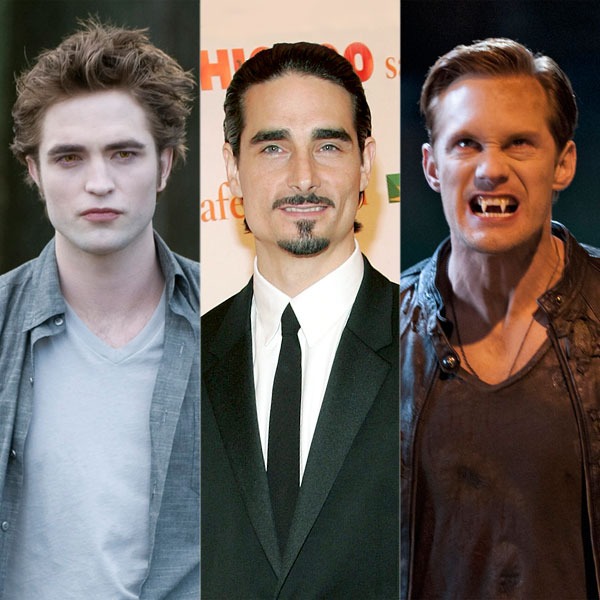 Summit Entertainment; Bryan Bedder/Getty Images; LACEY TERRELL/HBO
Just when you thought everyone had already gotten into the vampire craze, along comes a Backstreet Boys star to sink his teeth into the bloodsucking mania.
We're talking about Kevin Richardson, who's vamping it up in a new fang movie.
Read on for what the singer-turned-actor is telling us about Twilight, planning the Backstreet Boys' 20th anniversary tour and his advice for breakout boy bands One Direction and The Wanted...
First off, you're in a new movie The Casserole Club in which you and other castmembers have many naked sex scenes. Were those scenes awkward to film?
This is actually the first time I've done any onscreen loves scenes or anything like that. So yeah, it was awkward. But the people that I was acting opposite of were very professional and easygoing. We ended up laughing and having fun. It was interesting.
And in your next movie the Bloody Indulgent you play a vampire?
"I play a drug-addict vampire. He's got a lot of different things going on with him. A lot of different issues he's trying to work through [laughs].
So are you a fan of Twilight or True Blood?
I haven't seen any of the Twilight films. I do watch True Blood. I enjoy True Blood. Sometimes it's a little campy and out there but that's fun too sometimes. I've always loved vampire films.
Tell us about recording more music with your Backstreet Boys buddies?
We go into the studio next month in London. Start recording our next album together, all five of us. And next year in 2013 will be our 20th anniversary. April of 2013 will be 20 years. We're going to release the album and put together a tour, a world tour. I'm sure on that day we'll have some kind of a big bash as well.
After 20 years in a boy band, what advice do you have for breakout acts like One Direction and The Wanted?
Really enjoy the moment. And stay true to yourself. It's hard when things get so big and successful like that and the wheels are rolling. You've got all kinds of people pulling you in all different directions. Managers, agents, record labels. But stay true to yourself and savor every moment and have a blast.
PS: After this interview took place, it was announced that the Backstreet Boys will get a star on the Hollywood Walk of Fame next year. Congrats, you guys!