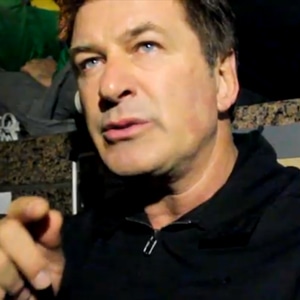 YouTube.com/WeareChange
Apparently, the latest installment of A-lister vs. paparazzo is a case of something looking far worse than it actually was.
Though, admittedly, it didn't look good.
But Alec Baldwin's rep has spoken out in the wake of the 30 Rock star's headline-grabbing physical encounter with a shutterbug outside New York's City Hall this morning, and is flat-out denying that the actor got violent with the New York Daily News lensman.
Here's the deal...
"As Alec and his fiancée were leaving City Hall, a 'civilian' walking in front of Alec positioned himself to obstruct the view of a photographer aggressively trying to shoot the couple," his rep, Matthew Hiltzik, told E! News.
"The photographer was clearly frustrated, pushed past the bystander and assaulted Alec with his camera. There were no punches thrown, and any subsequent physical contact was simply Alec protecting himself."
The actor seemed to be in agreement, tweeting out, "Ppl working in the entertainment industry keep appts w the press on a regular basis. Paparazzi assaulting you on the street duznt count."
As it happens, the actor is no stranger to the out-of-hand paparazzi encounter, and this morning's took place as he and his betrothed, Hilaria Thomas, were obtaining a marriage license.
However, despite reports that the duo might have secretly gotten hitched this morning, E! News has confirmed that that is not the case. The New York City Marriage Bureau requires a 24-hour waiting period between obtaining your license and your actual marriage ceremony—which means their wedding is likely on as planned for June 30.