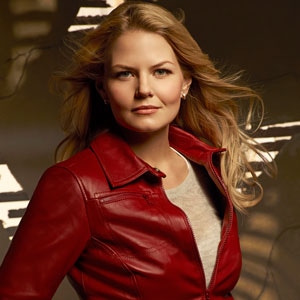 Craig Sodjin/ABC
A new princess! A plane crash! A gay bar!
What do those three things have in common? Oh, they are all part of today's edition of Spoiler Chat. (You're welcome, in advance.) Yes, a new princess will be introduced in Once Upon a Time's season-two premiere, while a certain underage werewolf will be hitting up a gay bar on MTV. 
Plus, we've got juicy scoop on Revenge, Pretty Little Liars, 90210 and more! What are you waiting for? 
Trish: Got any Once Upon a Time scoop?
It's such a long summer without magic Once Upon a Time. But if you are anxious for some season-two scoop, then you're in luck! The producers are hard at work writing and casting some cool new princesses for next fall. Anastasia could be mistaken for a spoiled rich girl, but as we all know love rules in Fairy-Tale Land. Plus, they are looking for someone to play Magnolia, a cool badass Asian chick who is an accomplished fighter and rider and might be a little bit magical. Dear ABC, we would like season two now, please. Sincerely, Team WWK.
Thomas: What's next for Regina on Once Upon a Time?! I love to hate her.
If it's up to her lovely real-life alter ego, Lana Parrilla, there will be flashbacks to Regina in Storybrooke pre-Emma Swan, specifically so viewers can learn more about Regina and Henry's complicated dynamic. "I'd like to see the history of that relationship; how she got Henry and I'm wondering if there will be flashbacks in Storybrooke next season," she tells us. "I'm anxious to find out and at the same time I'm patient because every script has always been so great. The anticipation solely comes from a place of me being a fan of the show as well and I want to know what is going to happen, but as the Evil Queen/Regina, I can wait."
Danielle: Pretty Little Liars is my guilty pleasure! What's coming up for my favorite girls on TV?
Janel Parrish, take it away! "You're going to find out more about that night, about Allison's grave being dug up; you'll find out more about how all that happened. Emily will start piecing that night together. There's going to be some new characters coming into town so it's going to be interesting, and Mona is going to be, you know, progressively crazier." We. Can't. Wait. 
Reenie in East Islip, N.Y.: I'll take anything you've got on Revenge! The finale was insane!
Wanna hear a fun behind-the-scenes tidbit about Victoria's plane crash in the Revenge finale courtesy of Madeleine Stowe? Of course you do! "Initially Mike [Kelley] only wanted to show the car drive onto the tarmac, but not show her getting on the plane. I said. 'No, no, no! Mike, you have to have me get out of the car and walk onto the plane and make the audience believe this is going to happen, and even if you don't blow her up, it's the strongest choice possible,'" Madeleine tells us. "I really believed in it. So it wasn't important to me whether I came back or not, I felt that was the wonderful conclusion to this character's heart. That she would know that she has done so many things wrong and she knows that something terrible might happen, but she's taking fate into her own hands because she believes it is the right thing to do. So whether Victoria came back or not was immaterial to me. I felt it was the perfect way to end the season." Have we mentioned she's free of flaw?
Rebecca: I'll take any scoop you've got on the new season of 90210!
The only thing that could make us more excited for the CW soap to return? Two hot new guys! Taylor is a club promoter who has a knack for spotting new talent in the music field. Hmmm…sounds like someone perfect for Adrianna. (Watch out, Dixon!) Also coming to the infamous zip code is a charming "tech" hottie Alec, who is kind of like Justin Timberlake's character in The Social Network. Sold!
Jenna in Costa Mesa, Calif: I'm obsessed with Teen Wolf! Any scoop? 
So a werewolf walks into a gay bar. No, that's not the opening of a joke, it's an awesome scene coming up later this season. Yes, viewers will see Scott and Stiles hit up a gay bar with Danny in a future episode, and we're hearing it's epic, funny, entertaining, etc. Basically, it's going to take over your Tumblr dashboard for approximately two weeks. 
Grant: It seems that everyone but Raj is finding love on The Big Bang Theory. Is that going to change next season?
Excellent question. So excellent, that we brought it to creator Bill Prady. "It's certainly something he hopes for, and when something is the goal of the character, it doesn't go away," Prady tells us of the poor unfortunate Raj. "I think Howard getting married has been a big thing, especially going into season six. Now with Howard and Bernadette becoming a social unit and Raj feeling on the outside, I certainly think his love life comes into play in season six." There might be hope for some Raj babies yet!
Chanel in New Orleans: Gimme some Modern Family,please! I still cant believe that Gloria is pregnant!
Well then, we've got the perfect scoop for you! We recently chatted with the always charming Rico Rodriguez about Manny becoming a big bro next season. "I'm so excited! I didn't even know about it, so my jaw dropped when I was watching it. I was like, Wait a minute, what? It was a crazy finale." When we asked Rico what he would prefer for the Pritchett family, a girl, boy or twins, he gushed, "Whoa, twins, that would be cool, but hopefully they go for a boy." We agree! Something tells us Lily wouldn't be too pleased if there was another little ballerina running around.
—Additional reporting by Tierney Bricker, Jenna Mullins, Christina Dowling and Leanne Aguilera
Spoiler Chat will be happening twice a week for the next few months, so don't hang out by the computer all summer, OK? But keep sending us questions by emailing tvdiva@eonline.com or tweeting @KristinDSantos!