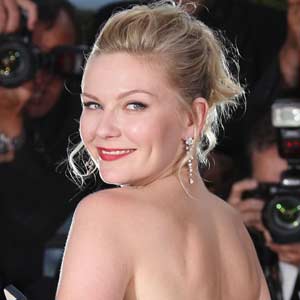 Tony Barson/WireImage.com
Kirsten Dunst is getting in touch with her raunchy side.
The 30-year-old starlet gets it on with an X-Men star in the upcoming comedy Bachelorette…
Dunst costars in the ensemble as a young executive organizing a high school friend's wedding when everything that can go wrong during the big weekend does.
James Marsden plays one of the groom's douche friends who ends up having a quicky sex romp with Dunst in a strip club.
"Those are always daunting scenes when you see them on the schedule," Marsden told me last night at the Maui Film Festival, where he was honored with the Nova Award before yours truly conducted a Q & A with him for an estimated 3,000 festival goers. "You're counting the days."
Thankfully, Dunst had no problem going for it.
"Kirsten was like, 'Come on, whatever. Lets have fun doing it and let's go for it,'" Marsden said.
At 38, Marsden may only be eight years older than Dunst, but he couldn't help but think of Dunst when she was a child star in movies like Interview With a Vampire. "Don't think that didn't cross my mind when we were on a bathroom counter in some random bar in New York," he laughed. "But she's as cool a chick as it gets. Once I knew Kirsten was game, it was much easier to do the scene."
Marsden realizes his not-so-likeable character is a departure from his usual good guy roles. "Everyone involved with the movie said, 'He's never going to do this,' but it was something I had an appetite for," he said. "They were shocked that I said yes."