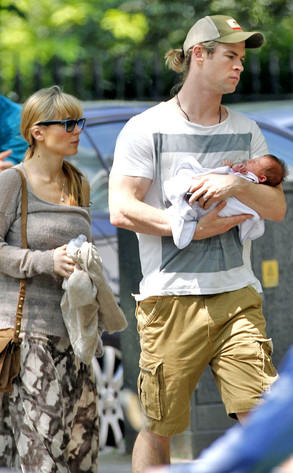 Flynet UK/FameFlynet Pictures
Hollywood's full of delectable doting dads, many of whom—such as perennials David Beckham, Ben Affleck and Brad Pitt—have become practiced hands at the gig.
But for some of our younger (well, mostly) heartthrobs, today will be the very first Father's Day they get to spend as dukes of dadhood themselves.
From sports star Tony Romo to Norse god Chris Hemsworth, music giant Jay-Z to ever-winsome leading man Hugh Grant, the past year has produced a bumper batch of freshly minted papas in all varieties of proud.
Here's a salute to all you noble novices out there, both famous and non, who today are collecting the first of what's sure to be a lifelong series of achievement awards in the shape of neckties, slippers and World's Greatest Dad mugs.