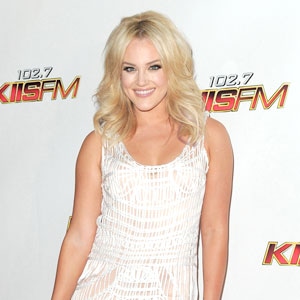 Jordan Strauss/WireImage.com
Finders keepers? Maybe not in this case.
E! News confirms that Dancing With the Stars' Lacey Schwimmer was surprised by an unknown naked man in her bathroom when returning to her dressing room in Las Vegas.
What the heck happened?!
It seems as though the mystery (naked) man was hoping to take a shower in Schwimmer's room (who is in Sin City performing for Dancing With the Stars: Live in Las Vegas).
"Lacey will go on with the show tonight. She is shook up but the show must go on. She entered her dressing room to find the naked man entering her shower, " her rep tells us.
"Historically laughing at how bad today has been hahah!," Schwimmer tweeted.
Lacey's rep also confirmed that she filed a police report, but the man has not been caught.
She tells us, "I was very scared but the security at Tropicana is doing an amazing job to ensure my safety!"
Reports claim this is the second break-in type incident that has occurred to a Dancing star while performing in Vegas, after a purse thief was found in castmate's Tia Carrere's room.
Maybe someone should amp up the security? Just a suggestion.
—Reporting by Holly Passalaqua