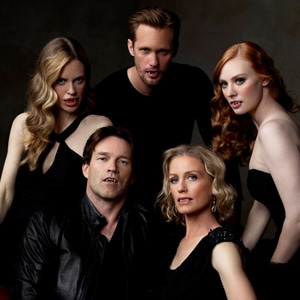 Art Streiber/HBO
Double the [insert True Blood character here], double the fun?
Yes, the HBO hit series is looking to get its doppelganger on and viewers will be seeing double of one of their favorite Bon Temps residents at the end of this season? So who's it gonna be?
Plus, what trouble will Georgina be stirring up in the final season of Gossip Girl and which uber-popular singer may be guest-starring on Glee's fourth season? We've got all that and scoop on Grimm, The Walking Dead, Sons of Anarchy and more in today's edition of Spoiler Chat...
Conor: So happy Glee is coming back to Comic-Con this summer! Have any scoop to add even more glee to my day?
Season four already has some pretty major guest stars on board (Hello, Sarah Jessica Parker and Kate Hudson!) and one more name might be added to the list soon: Maroon 5 lead singer and The Voice mentor Adam Levine! "I've talked to Ryan [Murphy] a lot about it. I'm doing his other show now. It's the super dark, non-musical version of Glee: American Horror Story," Adam tells us. "We've had multiple conversations about it in the past, trying to find the right thing for it, so hopefully one day!"
Francesca: Care to share any True Blood spoilers?
If you can believe it, the HBO hit will actually be introducing a new supernatural entity later this season…and they're taking a page out of the Vampire Diaries' playbook: Sookie's getting a doppelgänger! Here's hoping she's nicer than TVD's Katherine!
Samuel: I need some scoop on Sons of Anarchy…right now!
By now, we're sure you've heard that Ashley Tisdale is set to guest star in two episodes of the FX biker drama as a high-end escort. (Bye-bye, Disney!) Well, the Hellcats star sure will definitely be raising hell as more than one gang member (from the Byz-Lats, to be precise!) will be out to kill her when she goes to the cops with some very valuable information. Yikes!
Humberto Carreno/startraksphoto.com
Renatamoniz: What about Gossip Girl? Any scoop?
We caught up with Michelle Trachtenberg, aka the deliciously devious Georgina Sparks, on the set of her new project The Scribbler and had to ask about her character's involvement in the CW hit's final season. "Georgina has been there from the very beginning and I'd bet she'll be there at the end," she teases. As for what she wants to see happen? "Georgina should sleep with every one of the male characters on the show. I think it's not fair to single one out," she says. "Even though she's married, she's an equal opportunity offender. I look forward to bedding every Upper East Side boy…as Georgina!"
Lizzie: I'll take whatever you got on the second season of Grimm!
Who let the dogs out?! Grimm fans will be meeting a pack of coyotl (coyote-like creatures, duh!) in season two and one of the members happens to be an old friend of Hank's! The supernatural gang turns to Hank and Nick for help when one of their own disappears.
Kelly: Missing the Braverman clan like crazy! Any Parenthood scoop?
The Luncheonette is going to become even more of a family business in season four when Amber starts working there! Alas, this does not mean we'll be hearing more of Mae Whitman's awesome singing voice on the NBC hit as we're told there are no plans to have Amber sing on the show again anytime soon. Bummer City, population: us.
Frankie: Anything on The Walking Dead's new season?
Feast (get it?) your eyes on this first look at Merle Dixon's return. He's alive…minus a hand! The third season of The Walking Dead is currently in production in Georgia, and a little birdie tells us that right now they are doing lots of filming at The Governor's mansion. Stay tuned for more spoilery goodies from our zombie spies. No seriously, they are zombies.
Leanne: I'm obsessed with Saving Hope! Scoop please…
Alex will get really desperate in her attempts to bring her fiancée Charlie back. How desperate? Let star Erica Durance tell you! "She tries potential sexual stimulations to try and bring Charlie back, which she thinks is crazy. Absolutely insane because it's not all medically sound," she says to us. "You just see her slowly try and reach out and make contact with him and bring him back. Some of the things that they try to do work for just a second, and you see them potentially almost being able to contact each other."
—Additional reporting by Jenna Mullins and Tierney Bricker
Spoiler Chat will be happening twice a week for the next few months, so don't hang out by the computer all summer, OK? But keep sending us questions by emailing tvdiva@eonline.com or tweeting @KristinDSantos!