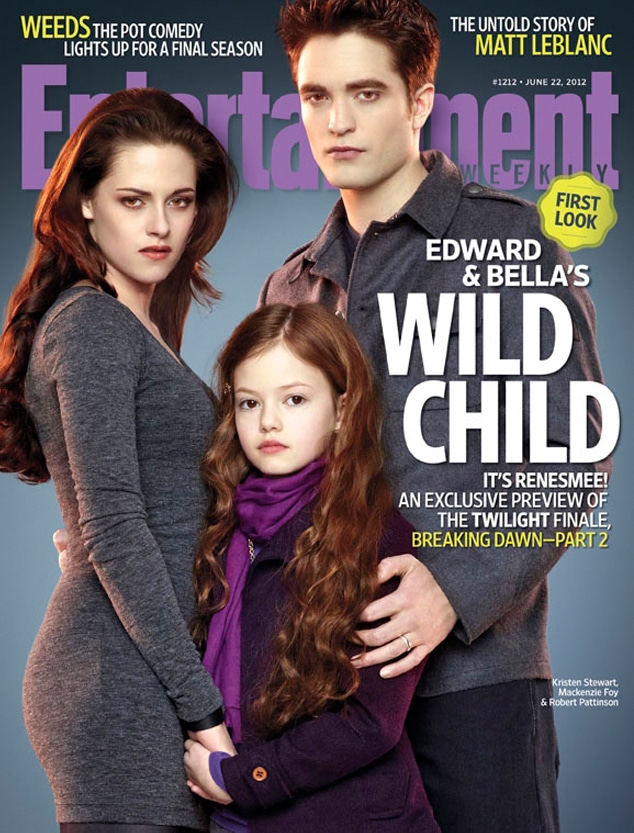 Entertainment Weekly
Sorry, Snow White, but it looks like your time in the spotlight is over.
Because Bella Swan is back and more bloodsucking-ly badass than ever. Today, we got our first look at mama Bella, hubby Edward Cullen and daughter Renesmee—courtesy of Entertainment Weekly—but the stars are also sounding off on the final installment of the Twilight Saga.
Like Kristen Stewart, who happily admits: "Let me tell you, this movie is so weird. It. Is. Bizarre." Possibly the strangest plotline of the final film? Taylor Lautner's, uh, "relationship" with Bella and Edward's infant daughter.
"Everyone likes to tease me about it," Taylor Lautner admits to EW. "Everyone thinks it's so funny, and I laugh along with them, but it's important for me to keep in my mind that it's as simple as a lifelong bond. It's not nearly as creepy as everybody likes to joke."
Uh, it's kinda creepy, Tay. And we're basing that off of just one scene in Breaking Dawn Part 1—ya know, when the CGI baby gives Taylor's Jacob some seriously sultry bedroom eyes and—boom!—imprinted…
"Oh, I can't wait till he has to do live TV," Robert Pattinson jokes about his wolfy costar. "Did you ask him if his taste in women has changed? The first scene I saw them together, I literally could not stop laughing. I wouldn't have been able to do it."
Having 11-year-old Mackenzie Foy on set wasn't all giggle-worthy though.
"We're all around the same age and we're really not polite to each other anymore," R.Pattz admits about his costars, who have infamously sparked drama with one another in the past (wonder who he's referring to in this case!). "You'd have to tone it down when Mackenzie was around. She had a little swear jar, and I think she made 850 bucks or something."
But despite the curse words, Robsten really tapped into their parental instincts (and before you get your panties in a twist, no, that does not mean they're ready to have life imitate vamp-tastic art):
Director Bill Condon gushes over the duo, saying, "It really brought something paternal out in Rob, and Kristen was especially protective. I'd have to interrupt them when they were in deep conversation to get going with a scene."
And though they may be newlyweds—and new parents—in the film, Rob and Kristen are the same old married couple we love behind the scenes!
"Kristen complained about 500 times more than I have," Pattinson teases his costar and GF about the red vampire contacts K.Stew has to now don in her undead state. "She condensed four years of complaining into a few months."
Ugh, we cannot get enough of these two. When the heck does this promo tour start so we can see their adorable bickering on camera?!