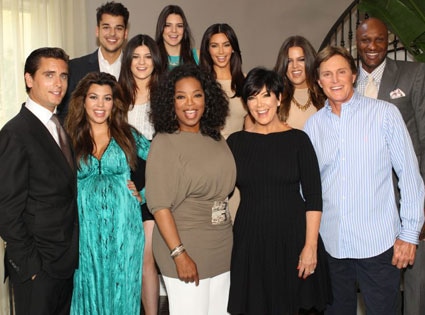 OWN
Get ready to sit down with the whole fam-bam.
Bruce, Kris, Kim, Kourtney, Scott, Khloé, Lamar, Rob, Kendall and Kylie all get together with Oprah Winfrey at the Jenner home in Hidden Hills, Calif., for a sit-down interview that will be featured on Oprah's Next Chapter this Sunday.
"This is beyond amazing! We are so excited to reveal that the entire family is going to be on Oprah's Next Chapter on the Oprah Winfrey Network this Sunday, June 17, at 8/7c," Kim wrote on her website.
"I've always looked up to Oprah Winfrey as a strong, smart business women and admire all of the incredible work she does for charity, so to actually be on her show with my family is just surreal."
We can't wait to see the interview queen Keep Up with this famous E! family, can you?!
Tune in for an all new episode of Keeping Up with the Kardashians Sunday at 9 p.m./8 p.m. CT only on E!