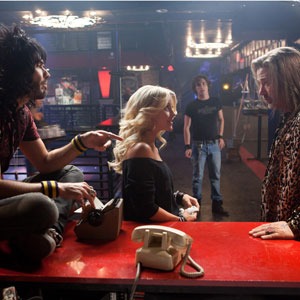 David James/Warner Bros. Entertainment
As if the cast of Rock of Ages isn't star-studded enough, we're happy to reveal that there's a supersecret surprise celeb cameo in the flick!
And we have the inside scoop on how director Adam Shankman made it happen.
So who should you be on the lookout for when the flick comes out Friday?
Is it Tom Cruise's wife, Katie Holmes, or daughter, Suri? Or perhaps Julianne Hough's guy Ryan Seacrest? Or what about one of Alec Baldwin's 30 Rock costars?
Read on to find out...
It's Julianne's Dancing With the Stars brother Derek Hough!
And you won't believe the scene he's in—the one that features Julianne pole-dancing.
"In the strip club, of all places, which is really weird," Derek, 27, told us at the Rock of Ages premiere in Hollywood. "I was just there visiting, and I walked in and Adam was like, 'Sit down there.'"
However, it wasn't long before Derek had enough of Julianne's stripper moves.
He laughed, "It was just funny because once she started dancing and doing the whole thing, I was like, 'I think I'm going to go now.'"
At least Derek wasn't there when Julianne gave Cruise a lap dance!