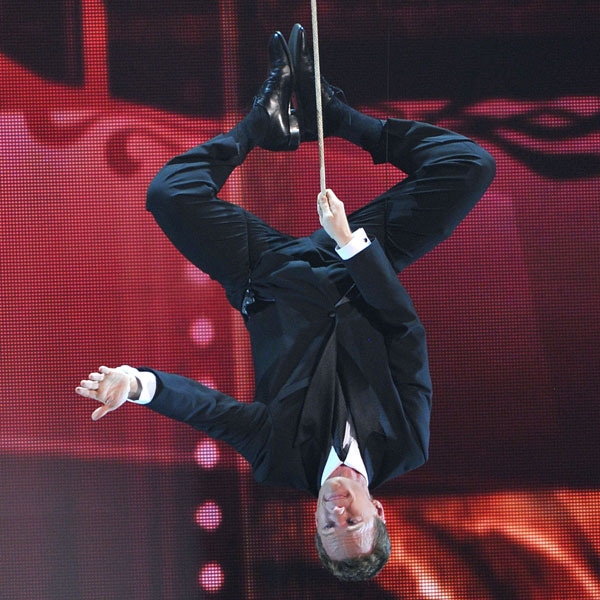 Theo Wargo/Getty Images
It was a good night for the musical Once. It was a bad night for the Tony Awards.
Sunday's telecast lost nearly 1 million viewers from last year, per the early numbers, and dropped the awards show to an all-time ratings low.
What was up with the show being down? Some possible reasons:
1. Two Words: True. Blood.: The HBO buzz show's fifth-season premiere, which aired opposite the Tonys' second hour, dug into 5.2 million viewers. The number wasn't the series' biggest yet, but it was big, and it was in line with its season-four opener. In any case, the Tonys didn't enjoy the ratings bump at 9 p.m. that most multihour shows do. Coincidence? Maybe not.
2. Two More Words: Mad. Men.: The AMC classic's fifth-season finale, which opposite the Tonys' third hour, averaged 2.7 million, the most-ever for a Mad Men finale. The Tonys, meanwhile, fell to 5.5 million viewers at 10 p.m. Coincidence? Maybe not.  
3. Not Enough Spider-Man: Host Neil Patrick Harris tried, but the ever-smooth emcee, who literally hung around for a bit as the Webslinger, wasn't a substitute for Tony voters' snub of Broadway's most talked-about show, Spider-Man: Turn Off the Dark, which was up for only two awards (and none in the glamour categories).
4. Seriously, Not Enough Spider-Man: When your telecast kicks off with a number from last year's big winner, The Book of Mormon, it knows it's in trouble when it comes to this year's big nominees. (But yes, the number was whiz-bang nonetheless.)
5. This Year's Big Nominees: Musicals drive the audience for Broadway as well as the Tonys, and the 2012 crop of Best Musical hopefuls just didn't have a breakout hit among them. (See the above item on The Book of Mormon opening.) By the time Once was crowned winner, the telecast, which averaged an estimated 6 million total viewers on the night, had dipped below an already-slim 1 rating in the 18-to-49 demographic.