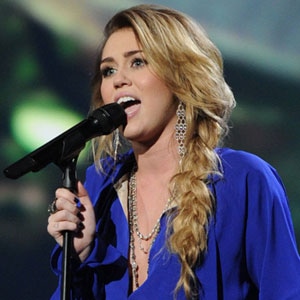 Jason Merritt/Getty Images
Well, it certainly sounds (kinda, sorta) like Miley Cyrus.
A snippet of a song is spreading around the Internet like wildfire with several speculating that it could possibly be a sneak preview of one of the newly engaged star's upcoming tunes.
So what does the future Mrs. Liam Hemsworth have to say about it?
"That is most definitely not me or my style of new music," Cyrus tweeted on Sunday night.
In fact, even one of the singer's followers, who posted the clip, had his or her doubts that it was actually Cyrus, but still wanted people's thoughts on it nevertheless.
E! News, however, did exclusively learn last week that the 19-year-old bride-to-be has been quietly working on her next studio album, which a source tells us is going to be "very adult and sexy and believable."
No word on when it will be released, but we're told it will come out before Cyrus and Hemsworth tie the knot.