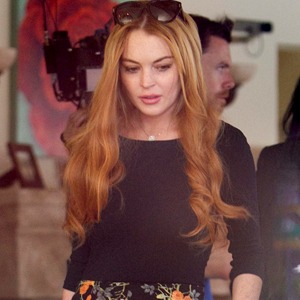 Deano /Splash News
Lindsay Lohan's bad luck on the road continues.
The actress was taken to the hospital Friday after her Porsche was totaled in a collision with a semi-trailer truck on the Pacific Coast Highway. Santa Monica Police confirm to E! News that they are actively investigating the accident and that Lohan was one of two parties involved.
But just how serious is Lohan's condition?
Larry Thompson, executive producer of Lohan's latest project, the Lifetime movie Liz & Dick, tells us that the star, who was apparently on her way to their Malibu set, was seeing a doctor.
"We are shooting around her waiting on a definitive medical answer," Thompson says.
"Lindsay was involved in an automobile accident today on her way to the set," her rep, Steve Honig, wrote in a statement to E! News. "She was brought to Santa Monica UCLA hospital as a precaution. She is fine and was released less than two hours later and is already headed back to the set to resume work. Fortunately, no one was seriously injured in the accident."
Her assistant, Gavin Doyle, was with her and was taken to the hospital for treatment, as well.
A photo taken at the scene showed her mangled Porsche, its front passenger side all smashed up and debris littering the right side of the road.
Santa Monica Police later told E! that a 911 call came in at 11:42 a.m. reporting a collision on PCH between a large dump truck and a black 2011 Porsche while both were headed north. Officers determined at the scene that Lohan had been behind the wheel of the Porsche. She complained of pain, her passenger had minor visible injuries and both were taken to the hospital by ambulance.
The male driver of the truck was uninjured, according to police. Both drivers were checked out for signs of being under the influence and that was quickly ruled out as being a factor in the crash.
—Reporting by Ken Baker, Holly Passalaqua and Katie Rhames

(Originally published June 8, 2012, at 1:48 p.m. PT)