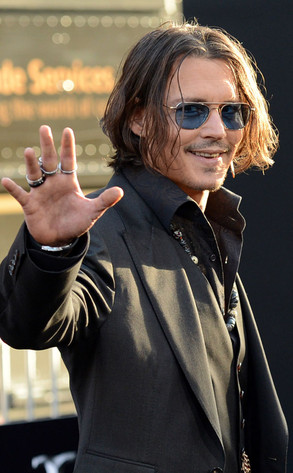 Jason Merritt/Getty Images
Johnny Depp didn't need to play a vampire to look as if he'd been blessed with eternal youth.
The perennial heartthrob celebrates his 49th birthday today, if you can believe it, and though he's starting to collect lifetime achievement and icon awards, the father of two shows no signs of settling quietly into middle age.
Tim Burton's favorite actor has, however, been reembracing his musical roots, turning up as Marilyn Manson's guest guitarist in April and jamming with the Black Keys at last weekend's MTV Movie Awards (where he received one of those career-well-done honors).
Happily for his fans, who love Depp just as much as the camera does, the Oscar-nominated and Golden Globe-winning thesp isn't making any Brad Pitt-like, "gonna quit acting" declarations as he nears the half-century mark.
Up next, he puts a new spin on Tonto in The Lone Ranger, and then there's talk of another turn as Jack Sparrow in a fifth Pirates of the Caribbean movie.