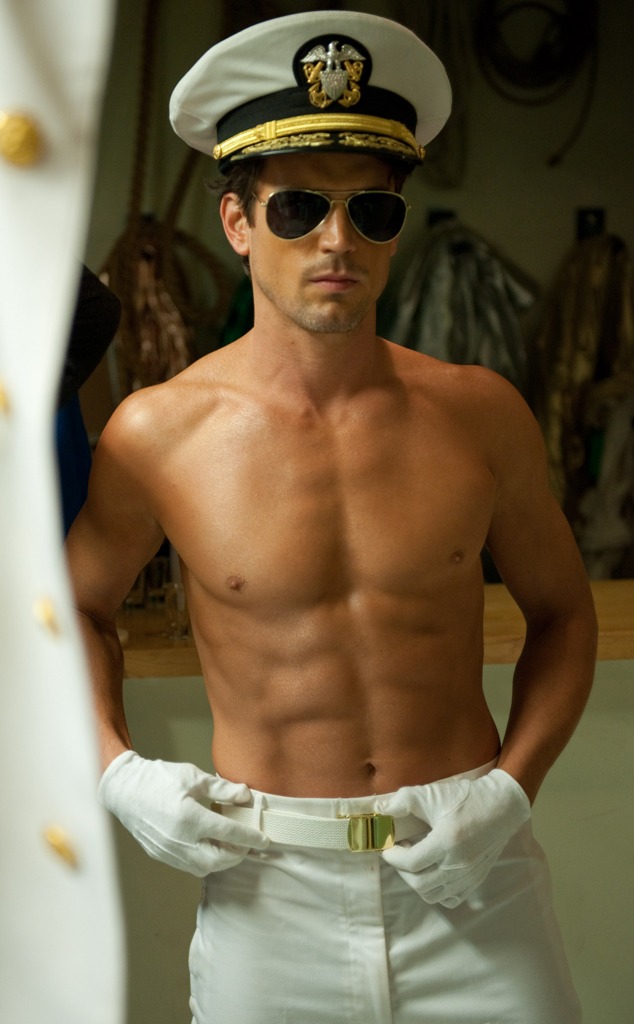 Warner Bros. Entertainment
Hallelujah! It's raining a shirtless Matt Bomer!
Well technically it's raining the men of Magic Mike—that'd be Channing Tatum, Joe Manganiello, Matthew McConaughey, Matt Bomer, Alex Pettyfer and Adam Rodriguez—in a whole slew of sexy new shirtless stills, and finally our fave blue-eyed boy is getting the love he deserves.
Check out the abtastic shots and get ready to swoon in six-pack heaven—we've picked out a few of our fave photos to satisfy your appetites:
We're still a bit hot and bothered (literally) over the fact that we've waited so damn long for our real-life Ken doll to get some love—he was completely absent from the first trailer, and we were just itching for a close-up in the most recent sneak peek (which, BTW, we are much more fond of).
Warner Bros. Entertainment
Luckily, these latest stills do not disappoint, and obviously our fave flick pic features a sans-shirt Mr. Bomer rocking aviators shades and a Marine Corps cap. We also die over the shot of the blue-eyed babe fist-pumping in his stripper act and rocking that casually perfect six-pack (or is that an eight-pack we count?!) to complete the look. Hey, Matty, we'll take orders from those abs any day.
Warner Bros. Entertainment
But if Boms isn't your par-tick pick for your daily dose of mantastic meat, then feast your eyes on Joe Manganiello Big Dick Richie doing a little shirtless jig in a fireman suit. We're seriously jealous of those chicks in the audience and can't wait to see Mr. Manganiello break it down on the big screen. So manly, so muscular and just so…yum. Perhaps we'll start a fire just so Joe can come to our rescue? Sounds like a brilliant idea.
Warner Bros. Entertainment
But enough with the sexiness! This film's not just about strippers, and we had to feature a few stills getting in on the silliness. We couldn't help but LOL at the shot of Alex Pettyfer and Channing Tatum shopping for some sexy skivvies and Channing's oh-so-serious face is priceless in the shot. Can't wait to find out what kind of man thongs these two dudes are shopping for! This movie just keeps getting better.
Warner Bros. Entertainment
Then there's a high-larious shot of Mr. McConaughey rocking barely there spandex shorts and—yes—a yellow biker crop-top. Not sure whether Matt's giving Al some old-fashioned workout tips or coaching him for their latest stripper show, but either way, we can't get enough of M.M.'s totally toned tummy poking out from under that shirt. We die.
Ladies (and gents), start ironing your dollar bills! The film hits theaters June 29.
Be sure to check out the rest of the pics from the mantastic flick and then hit the comments (or the gym) after you take a moment to swoon!