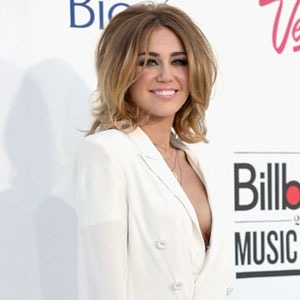 Frazer Harrison/Getty Images via ABC
Miley Cyrus has a wedding to plan, but that doesn't mean she's taking a break from her career!
A source tells E! News that the engaged star has been quietly working on her next studio album, which is going to be "very adult and sexy and believable."
The insider adds that the album will "one hundred percent" come out before she and Liam Hemsworth say "I do." But Cyrus certainly isn't forsaking her hot Aussie beau. In fact, the former Disney star is "on her way" to New Orleans to reunite with Hemsworth later this week, a source says.
Hemsworth, 22, is in the Big Easy working on the set of Empire State. Cyrus,19, is planning to spend the week "enjoying her man," according to sources.
We have a feeling, though, that she won't be relaxing with Hemsworth for too long. An insider says Cyrus is "having fun making music" for "the first time in her career."
"We are watching a young girl turn into a young woman," adds the source. Cyrus is working with various record producers, including Pharrell Williams in Miami and L.A.-based Hit-Boy, who has produced for the likes of Kanye West, Jay-Z and Eminem.
The ex-Hannah Montana star's engagement is just one piece of her maturation puzzle. Another was her decision earlier this year to part ways with her longtime manager from her Disney days and sign up with veteran music manager Bruce Flohr of Red Light Management. Flohr has worked with artists such as Dave Matthews Band and Foo Fighters and is helping Cyrus cultivate her new sound in studio sessions that an industry source is calling "Miley 2.0."