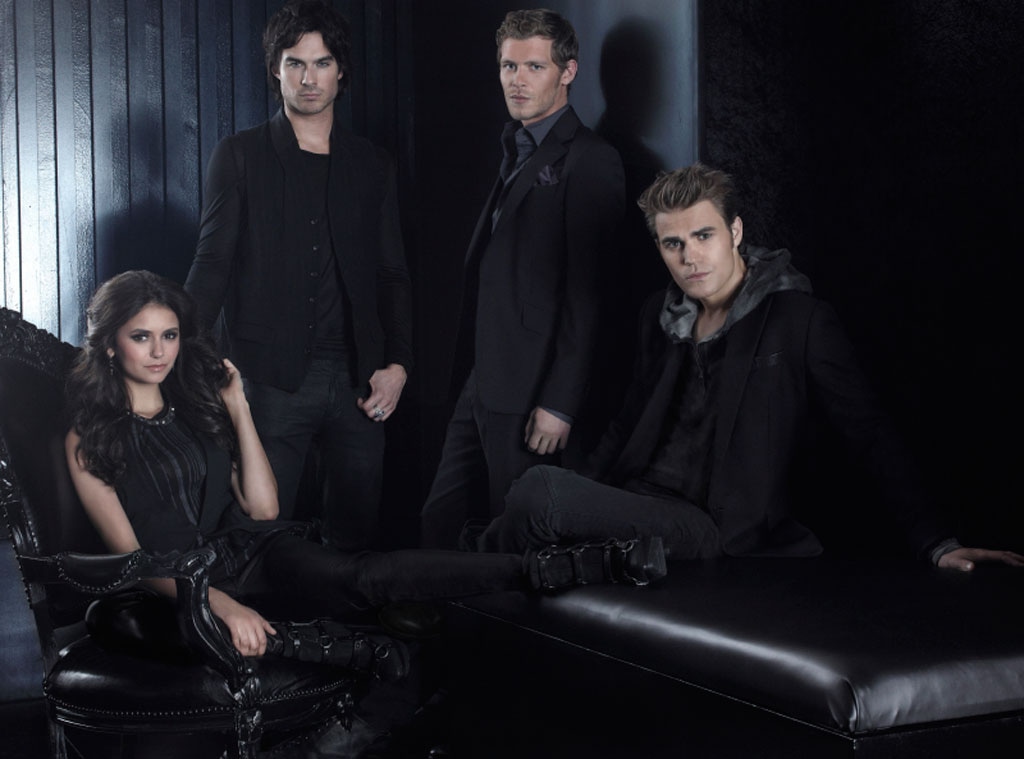 Frank Ockenfels 3/The CW
Game changer.
It's a phrase used way too liberally in the TV world to describe an epic episode or moment, but when it comes to The Vampire Diaries' season three finale's cliffhanger, there really is no other word that comes to mind that does the episode's bold final scene justice other than, you guessed it, game changer. By turning its leading lady Elena (Nina Dobrev) into a vampire, TVD has hit the reset button on most of its characters, relationships and mythology and we can't wait to see where the CW hit goes from here. 
We caught up with executive producer Julie Plec at the inaugural ATX TV Festival in Austin, Texas, to discuss the game-changing decision to turn Elena into a vampire and what our heroine will be like as a creature of the night (spoiler alert: Buffy and Sydney Bristow may have some competition!). Plus, will Damon (Ian Somerhalder) ever hear the words "I love you" by series' end? Find out...
We think most viewers were surprised that you actually made the decision to turn Elena into a vampire in season three, not at the end of the series. When did you make that decision and was it a tough call to make?
When we had our first network meeting with the CW back when we started the show, we were talking about the books and how there are multiple books and I think we said, "Oh by the way, at the end of the second book, she's a vampire." They were like, "Holy s--t! Are you going to do that?"  We were like, "Well, we'll get to it eventually. Maybe season five or season four." And so we always knew that that was part of the journey. As much as I talk about how we stray from the books and how we only use them as a jumping off point, we honestly do like to try and find our way back to fundamental tentpole moments in the book series because it feels like there's a world of stories there and why not? At one point, we had pitched that it would happen at the end of the second season. When we started the second season it was something that we thought, you know what, this could actually get there and we didn't want to because we felt like it was too early, but we kind of had it in our minds. Then what it gave us this year, because we knew from the get-go that was where we were going to end up, it gave us the opportunity to treat the second half of season three almost in its own way like a series finale. 
In a way, it feels like a reboot of the series, which is pretty cool. 
 It felt like we could just go balls to the wall and because in a way when we start over again, we're starting over—we're starting a new story. Same world, same characters, same feelings, same everything but for our ingénue, and our heroine, we are beginning. It is a beginning for her and what was exciting about it is we knew we were going to do it and so everything we did all year long was leading up to this. This is a girl who misses her parents, this is a girl who regrets the person that she has become and wonders if her parents would be ashamed of her. This is a girl who is trying desperately to hold onto a friendship that reminds her of when she was human. And all that stuff, the Wickery Bridge stuff, everything was all leading knowing that at the end we were going to her driving off the bridge again. And then when we started breaking the fourth season, it makes everything feel so new and so fresh and so, in that way, it takes us back to that great feeling of the beginning of that first season where it's about a girl with a secret and it's a becoming, it's a transition; it makes it all so grounded in character and more interpersonal suspense than big bold epic mythology. We get to start season four with a nice intimate, intelligent, character-driven point of view and then grow from there.
In your mythology, when a person transitions into a vampire, their most dominant trait as a human is amplified. Do you guys already know which trait of Elena's will become more prominent post-transition? 
Yeah, we do and that's a lot of what we've layered in this year as well. When Elijah (Daniel Gillies) says, "Your compassion is your greatest gift," that was very much said as a reminder that that is who this girl is. Her compassion is her gift and her Achilles heel. She is fiercely loyal, fiercely protective, and very, very compassionate to those around her in that she can see the good and the bad. When all that stuff gets amplified, it's going to make her, hopefully, kind of a badass, you know? Like, imagine Elena who is willing to stand up and fight the good fight for her brother and for her friends as a human—imagine her now with supernatural abilities. So in a fun way, it's like the birth of a supernatural heroine and with Buffy being the beautiful foundation of that kind of character and Sydney Bristow in Alias, it's a whole new world to explore, so we're kind of excited about that.
In the book series, Elena as a human had a dark side that the show never really explored. Did you ever consider exploring a darker side of Elena before she became a vampire? 
I think the difficult thing is the book Elena was, with trying to be respectful, was really kind of selfish and that didn't ever feel like a characteristic that we wanted for our heroine. We kind of abandoned that queen-bee popular complex that in a lot of ways defined early Elena in the books. I think that Elena's dark side, so to speak, is actually in her deep, deep, deep connection to other people, whether they are light or dark. So now that these things get magnified, it is her connection to darker things and darker people is that going to bloom at all or is she still going to be the infallible heroine? I think that grief can do a lot to send somebody off their rocker a little bit, so who knows what she could go through as a vampire.
Obviously, we have to ask about Elena's choice between Stefan and Damon, which at the end of the finale, really didn't matter. A lot of the promotion for the finale was centered on Elena making that decision between the two brothers, so were you at all nervous about what the fan reaction would be like after the episode aired?
A lot of things that I said leading up to that last episode to the press was like, "Elena needs to decide what she wants and who she wants to be with right now according to who she is in her life right now and that she can't string two guys along, even though selfishly in her own way she was afraid to lost somebody else." That's what was driving her, like, "I don't want to lose another person in my life," but she couldn't continue to love them both like Katherine said. I think in the series it is okay to love them both, but in this moment in the show, there was unfinished business between both and she needed to take a stand and have a point of view about it. I think one of the things we wanted to do was give her last human choice and to make it powerful and for that choice to be born out of who she is in that moment as a human. She's not human anymore, so how will she change and what will that do to her relationship with everybody in her life? And so it just opens the door wider rather than closing it.
While watching the show, we couldn't help but notice that despite the fact that Damon is so desperate for love and the quest for it has defined him, no one has actually ever said "I love you" to him. Is that a conscious decision the writers made?
Somebody actually commented on that, that the words "I love you" were never spoken to Damon, which was never deliberate for us in that it just never felt like something Stefan (Paul Wesley) would say. Brothers show their love, they don't say their love. I think Stefan loves his brother now in ways that he has strayed from over the last century and a half. Now that it's been pointed out that it has never been said, I think that when it is said it's going to be really specific, deliberate, and very special. I don't think Elena could have said, "I love you, Damon" and even if she does love him, even if she has these deep feelings for him because she still loves Stefan and to respect that relationship and to be committed in that moment as she decided to choose that relationship. You know, there's still that story left to tell before those words can come out of her mouth.