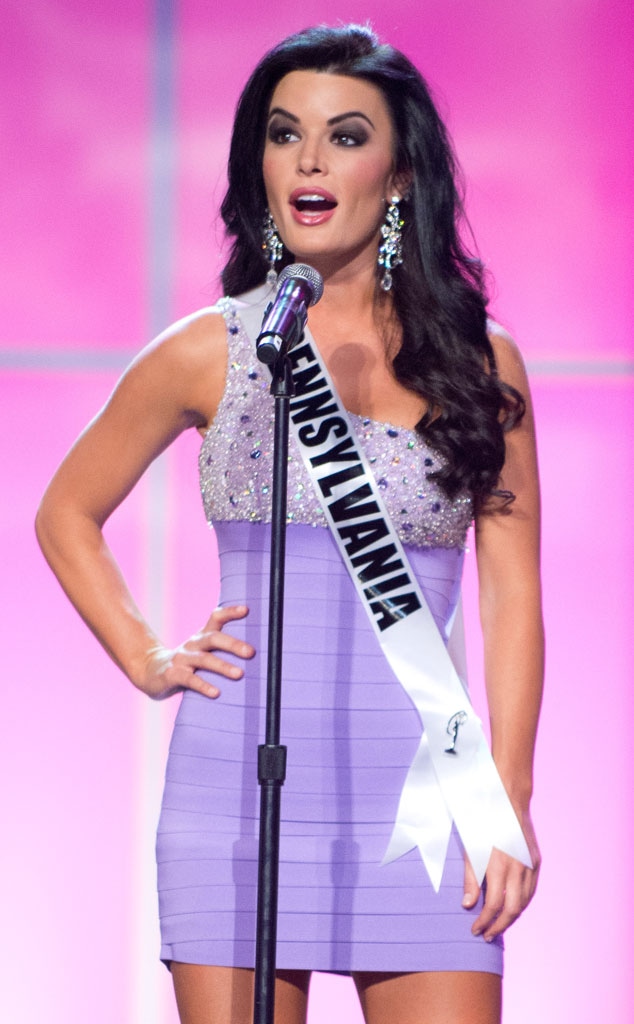 Greg Harbaugh/Miss Universe Organization
Shocker: Donald Trump has more beauty pageant controversy on his hands.

Sheena Monnin, the reigning Miss Pennsylvania USA, resigned from her post this week, publicly calling the Miss Universe Organization's winner-selection process "fraudulent, lacking in morals, inconsistent and in many ways trashy." She then wrote on Facebook that a fellow contestant saw a list revealing the top five Miss USA finalists before the show took place.
But this isn't the way the Miss Universe Organization views her resignation...
"The Miss Universe Organization can confirm the resignation of the Pennsylvania title holder after she did not place in the Top 16 at the Miss USA pageant," the pageant purveyor said in a statement to E! News.
"In an email to state pageant organizers, she cited the Miss Universe Organization's policy regarding transgendered contestants, implemented two months ago, as the reason for her resignation. Today she has changed her story by publicly making false accusations claiming that the pageant was fixed, however the contestant she privately sourced as her reference has vehemently refuted her most recent claim. We are disappointed that she would attempt to steal the spotlight from Olivia Culpo of Rhode Island on her well-deserved Miss USA win."
Culpo, who was just crowned on Sunday, was asked during the competition about the inclusion of transgender contestants, and the 20-year-old apparently pleased the judges with her answer: "I do think that would be fair, but I could understand how people could be apprehensive to take that road...I do accept that because I believe it's a free country."
In a transcript of the email said to be from Mommim and provided by the Miss Universe Organization, the 27-year-old from Cranberry, Penn., wrote that she refused to be "part of a pageant system that has so far and so completely removed itself from its foundational principles as to allow and support natural born males to compete in it. This goes against ever moral fiber of my being. I believe in integrity, high moral character, and fair play, none of which are part of this system any longer."
Speaking of moral fiber, after Miss Universe Canada hopeful Jenna Talackova was initially barred from competition, the MUO officially altered its rule book in April to allow for transgender women like Talackova (she had gender-reassignment surgery at 19) to compete for the crown.
Talackova ultimately placed in the top 12 and shared the title of Miss Congeniality with three others.
Monnin, meanwhile, stands by her allegation that the Miss USA pageant was rigged. She wrote on Facebook that, when she found out that the finalists were predetermined, she "decided at that moment to distance myself from an organization who did not allow fair play and whose morals did not match my own."
She also urges her fellow Miss USA contestant who supposedly saw the list to come forward as an eyewitness, "then perhaps action can be taken. As for me, I believe her words and will not encourage anyone to compete in a system that in my opinon and from what I witnessed is dishonest."
In her public statement of resignation, Monnin wrote: "In my heart I believe in honesty, fair play, a fair opportunity, and high moral integrity, none of which in my opinion are part of this pageant system any longer. Thank you for all your support and understanding as I walk a road I never dreamed I'd need to walk, as I take a stand I never dreamed I'd need to take. After 10 years of competing in a pageant system I once believed in, I now completely and irrevocably separate myself in every way and every level from the Miss Universe Organization. I remove my support completely and have returned the title of Miss Pennsylvania USA 2012."
Though the MUO has seen its fair share of controversy in recent years, from underage partying to Carrie Prejean denouncing gay marriage, this marks the first time it's been accused of rigging results, according to pageant news site Global Beauties.