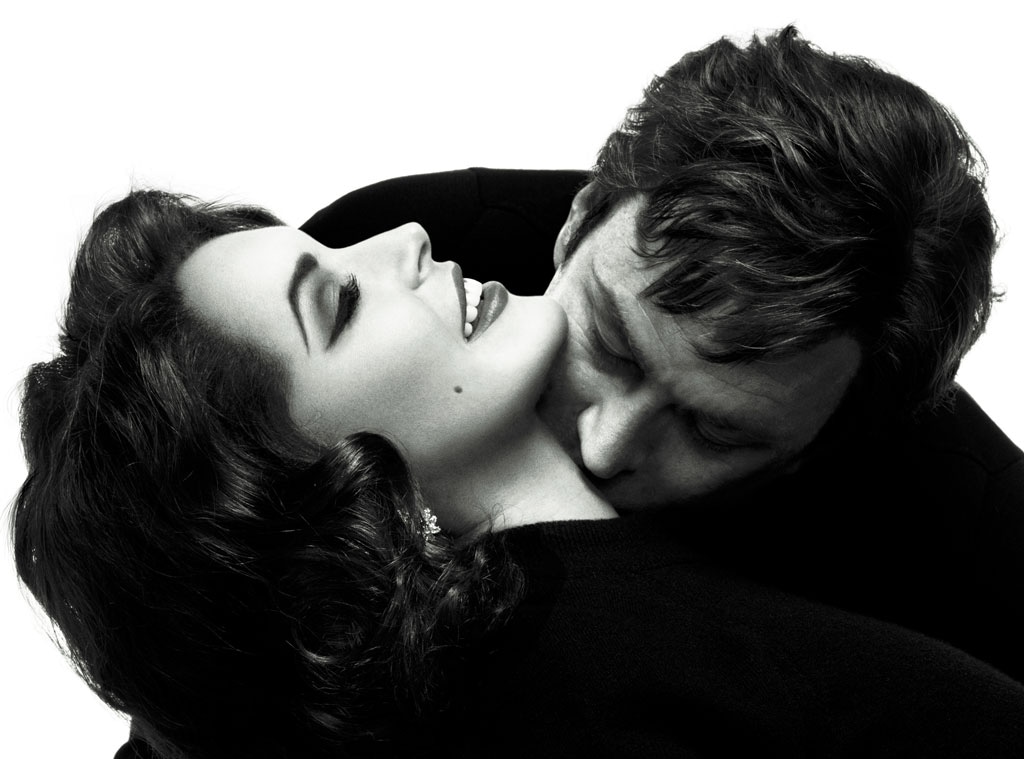 Richard McClaren/Lifetime
Ready for an Elizabeth Taylor double take?
Earlier we showed you an unofficial pic of Lindsay Lohan looking fierce in a leopard swimsuit while on-set filming the Lifetime biopic, Liz & Dick. The flick started principal photography in Los Angeles today.
And now? The first official pic has finally hit the web and we must say we're thoroughly impressed with LiLo's spot-on Liz look. And don't even get us started on the ever-sexy Grant Bowler (as Richard Burton) featured in the shot.
Now that we have photo confirmation that this film's really happening, we must 'fess, we're totally shocked by what we've seen thus far. We love the photo of Lindsay in her cat-eye shades and curve-hugging suit and we almost didn't recognize Lindsay in the photo above.
According to a Lifetime source, the pic was shot last Tuesday at Lifetime studios and they went with black and white to portray a "classic" look. And we think they did an excellent job channeling that old Hollywood glam!
Oh, and can we just talk about the chemistry between LiLo and Bowler in the steamy shot?! You can practically feel the sexual tension between these two (remember, producer Larry Thompson said their chemistry "exploded" in early screen tests) and we're totally on board with Bowler as Lindsay's Burton.
The more we see, the more convinced we are that Lindsay's comeback is totally full-swing, and we're thrilled to spot the oft-troubled babe channel some of her, er, energy into her work for a change.  
As for some inside info on the first pic? Thompson tells E! News that the first scenes were shot this morning starting around 9:30 AM and they were of Liz and Dick on a yacht (docked at Marina del Rey). He also reveals that the cast was in good spirits:
"A little first-day jitters for everyone, but it went well," he revealed, while adding that Lindsay was in a good mood as well.
What do you think of the first official Liz & Dick photo—spot-on or totally off?! Tell us your thoughts in the comments!