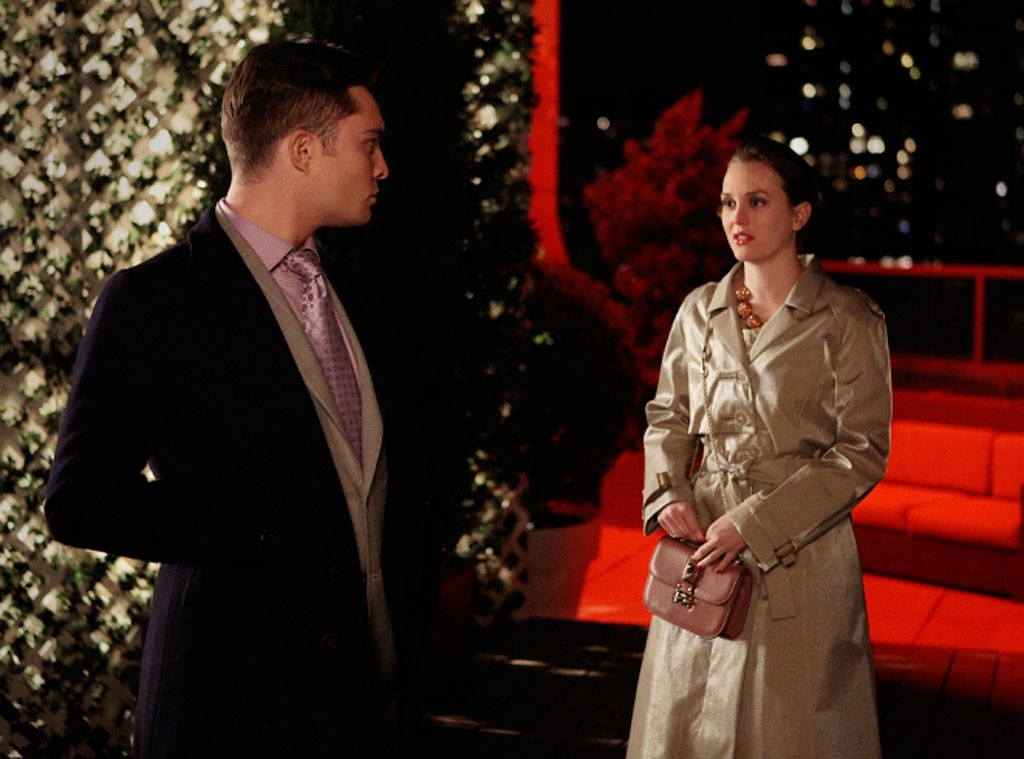 GIOVANNI RUFINO/The CW
Gossip Girl is ending soon. Has that fact fully sunk in yet?
Well, until it does, how about we drop some Gossip Girl final-season scoop on your head, courtesy of Leighton Meester? We've also got some deliciously intriguing True Blood scoop to help prep you for the season-five premiere on Sunday. All that, plus Pretty Little Liars, Sons of Anarchy and more in today's Spoiler Chat…
Totally Legit Person: Man, I wish there was a cool Internet event where I could vote for my TV favorites in categories like "Best Kiss" and "Moment That Made You Want to Throw Out Your TV."
You're in luck, because the Golden Remote Awards are happening right now. Better start nominating!
Lynette: I'll take anything you got on next season of Gossip Girl. Is there hope for Chuck and Blair?
That's the first time we've heard that question. Oh, we kid because we love! After all, we asked the exact same thing to Leighton Meester recently. "Who knows? But probably," she laughed to us. "I think you can imagine that happening for sure. I have ways that I hope it will end, but I don't want to get anybody else's hopes up." But before Chuck and Blair can find forever love with each other, Meester hopes for some Gossip Girl madness. "I hope that a lot of crazy stuff happens. I'm ready for it." As are we.
Janea in Placentia, Calif.: I was absolutely devastated for Lafayette last year when Jesus died. I don't think he can handle losing both Tara and Jesus!
Come on, y'all, this is True Blood! Just because someone "dies" doesn't mean they're gone for good, right? We caught up with the sexy nurse himself, Kevin Alejandro, and he tells us audiences could be seeing this brujo again. "My character definitely has a role in this season, but I can't tell you how." Alejandro teased. "I'll tell you this, the death of Jesus really has affected Lafayette (Nelsan Ellis) in a very dramatic way, so you can expect to see how he deals with that and how it affects the other people around him. There's a lot more depth to Lafayette that audience is in store for, hope you're ready for it!" Please, we've been ready for months!
Kandice in Austin: Can I try to glamour you into giving us some True Blood scoop?!
Well you could try, but we were going to give it up anyways! We've seen vampires, witches, werewolves and fairies, but now there's a new kind of mythical being in Bon Temps. At the end of last season, we met Patrick (Scott Foley), Terry's commanding officer in Iraq, who will be heavily involved in this season's drama. Foley explains, "We're going to see a lot of Terry figuring out who he is and coming to grips with what he has done in is past, especially over in Iraq. And we're going to find out whether Terry and Arlene stay together." But what is it about Patrick that makes him so important? Foley teases, "I bring in a substantial supernatural element to the show that hasn't been seen yet." Start the speculation fangbangers!
Milla: Loved the Teen Wolf premiere! What's to come?
Glad you loved it, because one of the stars was a wee bit nervous. "I'm worried what fans are going to think [of the premiere]," Dylan O'Brien admitted to us. What did you guys think? Should have he been worried? His costar Crystal Reed wasn't sweating it, telling us she was "confident" about this season. "I think that people are going to love it!" Considering we've heard about something crazy going down later down the road, we know people are going to love it.
Claire in Seattle: I'm beyond excited for the Pretty Little Liars premiere tonight! Can we get some celebration scoop?
As if this cast couldn't get any more attractive, we've got some sexy newcomers on the way! Later this season, in episode nine to be exact, we'll be introduced to two more male hotties in Rosewood: Gabe and Eric. Gabe is an attractive and "somewhat preppy" newcomer whose family is loaded, but also a wee bit on the dysfunctional side. (Aren't they all?) Eric on the other hand, is described as a "devilishly handsome" manipulator who loves to use his charm to mess with people's heads. We don't know about you, but we can't wait to meet this destructive duo!
Omar: Sons of Anarchy spoilers! I need them.
We'll get into the different between want and need later, but for now we'll just give you some Sons of Anarchy scoop. A new character will be introduced in episode three that sounds an awful lot like a love interest for someone. She's described as being "very pretty and innocent looking," but she's a prostitute. Don't get too attached to her, she's only scheduled for two episodes as of right now.
—Additional reporting by Jenna Mullins and Leanne Aguilera

Spoiler Chat will be happening twice a week for the next few months, so don't hang out by the computer all summer, OK? But keep sending us questions by emailing tvdiva@eonline.com or tweeting @KristinDSantos!