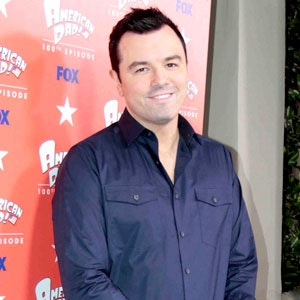 FOX
Seth MacFarlane apologizing?
As if.
The Family Guy head honcho kicked up some controversy last week when his show released Emmy consideration mailers and ads addressed to "Brentwood Jews."
We just talked to MacFarlane and this is what he had to say to his critics...
"I put it in the same category as Ricky Gervais at the Golden Globes a few years ago—Hollywood must be able to laugh at itself," MacFarlane told us at Spike's Guys Choice Awards in L.A.
"Hollywood is a town of very well-to-do folks who live very comfortably," he continued. "They have a very comfortable lifestyle, they do what they love, there's not much that is bad in their life. So they should be able to laugh at themselves. If they can't, it's a rather sad thing."
The material featured Family Guy character Peter Griffin saying, "Come on, you bloated, overprivileged Brentwood Jews. Let us into your little club." Inside, the copy read, "It's a secret ballot. You can still tell people you voted for Modern Family."
Ads featuring that text were rejected by trade publications The Hollywood Reporter and Variety.
Controversy aside, MacFarlane dished to us on Ted, his new movie that stars Mark Wahlberg as a man whose best friend is a potty-mouthed teddy bear that comes to life.
"You will never be able to have a teddy bear again," MacFarlane laughed, adding, "They're calling it a hard R comedy, but dare I say it's actually a very sweet movie that happens to have an R rating...it's not like there's gratuitous sex or violence. It's R for language."
Now we want to hear from you! Do you think MacFarlane should apologize for the controversy? Sound off below.