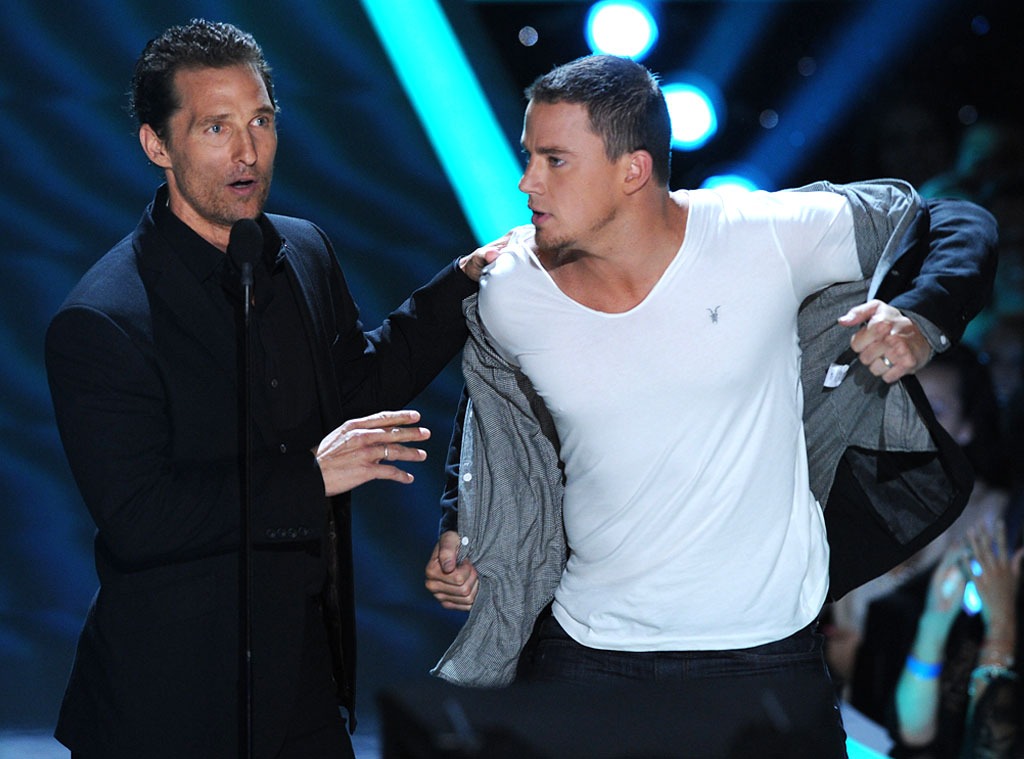 Vince Bucci/PictureGroup via AP IMAGES
Oh, where do we begin?
Right from the start the 2012 MTV Movie Awards were officially unpredictable. Everything from crowd comments, to Channing Tatum channeling his Magic Mike character, to yes, Russell Brand's numerous F-bombs and we'd call it a relatively successful evening.
But what were the most jaw-dropping moments?!
Kevin Winter/Getty Images
1. Mila Kunis & Mark Wahlberg's Awkward Encounter: Say whaaat? Upon Mila Kunis and Mark Wahlberg's walk to the podium to present the first award, a comment from the crowd threw the two for a loop. After an audience member yelled a remark, Mila took on an embarrassed and subdued stance while utilizing the name card as a shield, while Mark channeled his fatherly side and offered the bystander a curse word or two.
Kevin Winter/Getty Images
2. True Blood's Joe Manganiello's Surprise Appearance: Hot damn! As if Matthew McConaughey and Channing's faux stripping while presenting the award for Best Transformation wasn't steamy enough, the actors' Magic Mike costar Joe Manganiello surprised us by gracing us with his presence, complete in a fireman costume. 
3. Elizabeth Banks' Embrace of Strippers: While Joe's appearance was a nice surprise, even better was the way in which Elizabeth Banks accepted the award for Best Transformation from the group of strippers for her role in The Hunger Games. The actress not only engaged in bumping and grinding against the Magic Mike cast, but she even extended a thank you to MTV for the moment. Banks joked, "I just want to thank MTV for this moment right here. Thank you. Thank you. Thank you, MTV. This is just the best moment of my life." Adding in an apology for her hubby: "[He] comes with me everywhere and is really upset right now, probably. Sweet. Thank you!"
Kevin Winter/Getty Images
4. Kristen Stewart Can't Catch A Kiss: K.Stew scored the award for Best Kiss along with real-life beau Robert Pattinson for The Twilight Saga: Breaking Dawn Part 1. But R.Pattz wasn't in attendance to embrace the moment again with Kristen, so instead, the actress looked to her other costars—unsuccessfully. Kristen called for help from her "Huntsman" Chris Hemsworth, as well as evil queen costar Charlize Theron, and even "old friend" Taylor Lautner. When Chris, Charlize and Taylor failed to take to her side, Stewart opted to make out with herself.
Kevin Winter/Getty Images
5. Johnny Depp Is Seriously Talented: Sure he's a good actor and scored the Generation Award, but who knew Johnny Depp could rock it out as hard as The Black Keys?! The actor, who was originally slated to just receive the generation award and a song in his honor, took to the stage to play the bass alongside The Black Keys who belted out their hit "Lonely Boys."