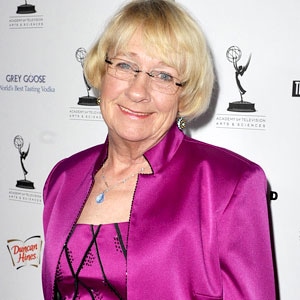 Mathew Imaging/WireImage.com
Just weeks after Kathryn Joosten delivered an emotional death scene as Karen McCluskey on Desperate Housewives' season finale, the Emmy-winning thesp has passed away.
Joosten died Saturday morning from lung cancer, and was surrounded by family and friends at the time of her passing, E! News has confirmed.
She was 72.
"Kathryn passed away this morning after a valiant fight against her cancer," Nadine Jolson, Joosten's rep, told E! News. "Her family was with her. Funeral arrangements are pending. This is a terrible loss, and she fought as hard as she could." 
Her family released this statement to E! News: "The family of Kathryn Joosten, two-time Emmy winner, longtime Governor of The Academy of Television Arts and Sciences, lung cancer advocate, and so much more, regrets to announce that Kathryn succumbed to her 11-year battle with lung cancer today, June 2, 2012, surrounded by love and humor til the end. Thanks to everyone for their love and support. We are laughing through our tears. We love you, Kathy, thanks for everything."
Joosten, who was a fixture on Housewives playing the trouble-causing, gossipy neighbor (she was originally introduced in season one as Lynette Scavo's nemesis), went on to win Emmys in 2005 and 2008 for Outstanding Guest Actress in a Comedy for her role on the show.
In a statement to E! News, Desperate Housewives creator Marc Cherry remembered Joosten fondly:
"The character of Mrs. McCluskey was created for a single episode. We then cast Kathryn Joosten and she infused the part with so much feisty wit and curmudgeonly bravado, we knew we had to move her onto Wisteria Lane for the run of the series. I will forever miss her, as a co-worker and as a friend."
Before joining Housewives, Joosten scored roles on Dharma and Greg, My Name is Earl, Ally McBeal and more, and was well-known for her role as Mrs. Landingham, the President of the United States' secretary, on The West Wing. 
Joosten, who spent many years working as a psychiatric nurse, kicked off her career as an actor at the age of 42.