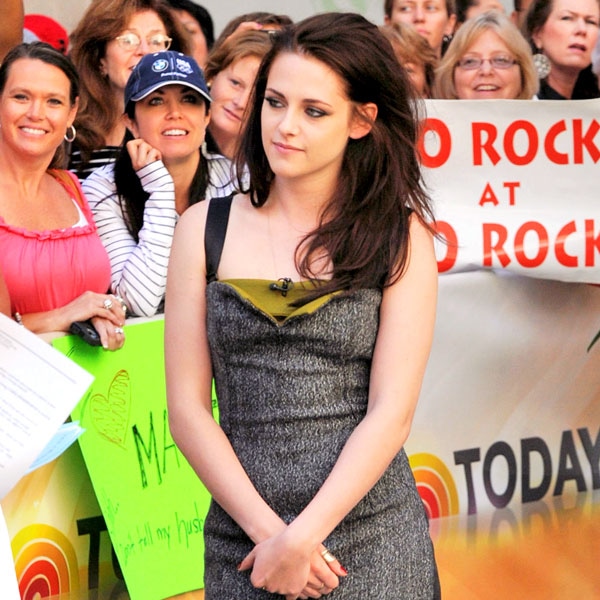 AAR/FameFlynet Pictures
Dear Ted:
Should Kristen Stewart be worried about the mixed reviews both On the Road and Snow White and the Huntsman got? At least the reviews of her acting in OTR seem mainly positive. There have been some fairly nasty ones about her performance in SWATH. Will this affect her career? This has me worried! Regardless, I plan on seeing both these movies. I tend to ignore reviews.
—x
Dear Soup Kitchen K.Stew?
Don't fret too much, babe. Whatever criticism reviewers might have for our fave gal Kristen, she will not have any trouble booking another gig. For the record, her On the Road reviews are pretty positive. And people will still go out in droves to see her turn as Snow White. Bella Swan can pull a box-office haul, damn whatever the Academy voters think.
Dear Ted:
I've finally put my Twilight obsession to rest and, thanks to you, have replaced it with Fifty Shades of Grey. I can completely see why you think of Alexander Skarsgård as Mr. Grey. Here's my problem with him—Christian and Eric Northman are just too similar. Can't see how he could nuance the part enough for anyone to get past the True Blood similarities. It's Eric but with different hair! I want to get lost in Christian. Maybe we need a totally fresh face?
—S
Dear Too Close for Comfort:
S, it's a little early to put that final nail in the Edward Cullen-Bella Swan coffin, don't you think? We've still got one more installment of the vampy saga left, and we should stick it out until the end (we've been put through so much already…New Moon,anyone?). As for your next fave franchise, doing the thing he does on the small screen—nearly perfectly, I might say—on the big screen might just be A.Skar's big break.
Dear Ted:
What I'd like to know is: Is Justin Bieber the punk he appears to be? And does anybody over the age of 12 really care if he got a concussion?
—No Bieber Fever
Dear Punk'd:
Harsh! But here's some answers: Yes, there are more than pre-tweens that care about our boy Biebs. You might actually be surprised how far Bieber fever has spread. As for the 'tude, he may not always be sunshine and smiles, but blame it on those teen hormones, 'K?
Dear Ted:
Now Teddy, you know I luv ya, but you love to cause drama between the Robsten fans and the (few) Nonstens. You've done it again with your whole "expect PDA again." Are you trying to hint to us that Robert Pattinson and Kristen planned the whole Cannes PDA? Or simply that they are getting more open in their relationship and are starting to show it more?
—Your #1 fan, JM
Dear Details Smetails:
You all certainly read into that oh-so-innocent remark, JM! So allow me to clarify: No, I do not think that R.Pattz and K.Stew were faking their way through the Cannes romancing. On the contraire.
Dear Ted:
I just got hooked on 30 Rock—how can you not love a show whose main character is named Liz Lemon?! This show has an impressive list of guest stars: Julianne Moore, Salma Hayek, Matthew Broderick, Edie Falco and Matt Damon, to name a few! I have a sneaking suspicion that Salma has a Vice, but what about the others? I'm assuming Ms. Fey is clean, because that's how she rolls (read Bossypants if you don't believe me).
—Hanna
Dear Sour Lemons:
No monikers for Tina Fey or the other 30 Rock gang (not even Tracy Morgan, who might be the most surprising). As for the guest stars, yes, there have been a couple of Blind alums popping up at Rockefeller Center, but of the ones you listed, you should be looking into Broderick, not Hayek.
Dear Ted:
Harriet Talons—would her character be more likely to be a doctor, have dated one in a prior season, or both be a doctor and date them? On another note, I think I've figured out what secret was in the new neighbor of Wisteria Lane's box. Kisses!
—Desperately Hoping You'll Answer
Dear What the Doctor Ordered:
No, no and no. She's done some hospital scenes on her show, though, if that helps?