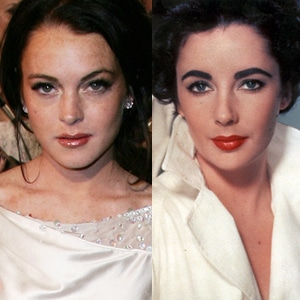 Tony Barson/WireImage; MGM
Showtime!
E! News has learned exclusively that Lindsay Lohan has completed a week of rehearsals for her upcoming comeback role as Elizabeth Taylor in the Lifetime movie Liz & Dick, with shooting scheduled to begin on Monday in Los Angeles.
"She is more than ready," says the movie's executive producer, Larry Thompson. "All her clothes are made. All her jewelry is made. Come Monday morning, Liz and Dick will live again."
PatrickMcMullan.com/Sipa USA
He adds, "This is really happening. This isn't like making an appearance on Glee or spending a week on SNL. She is number one on the call sheet. She is the star."
Thompson also tells E! News that Lohan and costar Grant Bowler, who will portray Richard Burton, had their last rehearsal on Friday with director Lloyd Kramer, who has helmed several movie projects for Oprah Winfrey's Harpo Productions.
"He is rehearsing them now and Lindsay is channeling Taylor," Thompson says with confidence. "She is excited and so into it. She went from being unfocused to being totally focused now that the movie is up and going."
The 88-minute film, according to Thompson, will be shot mostly at "hidden locations" around L.A. in just 20 days and will find Lohan wearing not one, not two, but 66 costumes.
What's more, Oscar-winning hair designer Beatrice De Alba has been hired to craft wigs for the leads.
"When you see both of them in full hair and makeup," Thompson says, "it is the definition of movie magic."
We'll know for sure when Liz & Dick airs Nov. 3 on Lifetime.