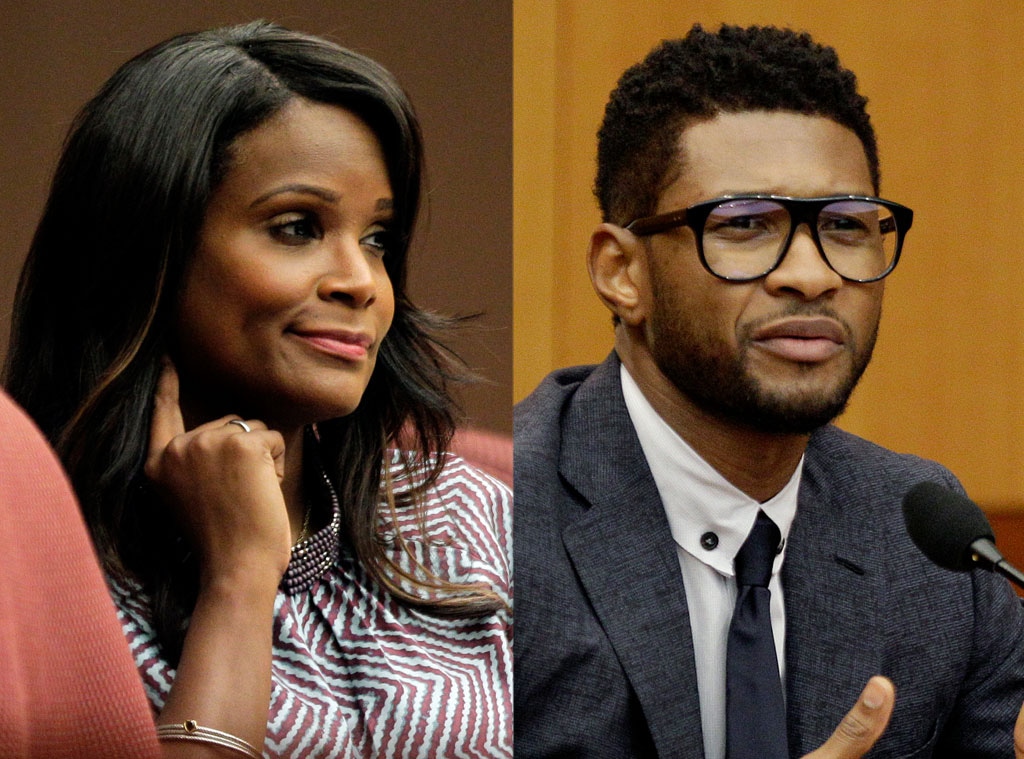 AP Photo/David Goldman
Tameka Raymond insists that she Usher are "not enemies."
"We're not," she says in an interview with TheGrio.com. "But people still find a way to make it more salacious than it has to be. I don't know how he deals with it, but I refuse to let the media manipulate what should be a personal situation and turn me into the villain."
If that is the case, her ex-husband has helped with the characterization, having testified in court that Raymond (née Foster) is trying to keep him from seeing their sons, 4-year-old Usher V and 3-year-old Naviyd, and that one day when he was dropping off the kids she followed him to his car and spit on his current girlfriend.
Raymond doesn't mention the alleged expectoration, but she claims that the ongoing custody battle is all Usher.
"I did not start this. I did not file this. Usher did," she says of their current tangle over visitation rights.
"I begged him to withdraw the petition, but he didn't listen. The media jumped on my answer to his petition for custody as if I initiated it, and I did not. Why would I try to keep his children away from him? We have joint custody and I want to continue to have their father around to help out. Raising children is a lot of work."
Raymond also talks about a rumor that apparently plagued her when she and Usher first married—that she was abandoning the children she already had to hook up with a rich guy.
"I've been a mother for a very, very long time and for anyone to think that I would put a relationship—especially a relationship they believed to be founded on superficial reasons—above my children is not something that I take lightly," she says.
"I had enough money of my own to last a lifetime and I think it's an insult to my ex-husband to insinuate that I chased him for those reasons," says the stylist, who is now planning to start a children's clothing line. "What, because he's affluent, he's not lovable? It's not dissing me to say he's unworthy. He was really attractive, funny, sweet and we were friends first...I've known Usher over 10 years, why is it impossible to believe that I loved him?"
So, where did it all go wrong?
"Well, if I had to point to one thing, one time, it would be after the birth of our second son, Naviyd," Raymond says. "Until that point, we were a very passionate, very loving couple, but then the pressure of the entertainment industry began to slowly creep in and poison our marriage. There comes a point when as a married man with throngs of adoring female fans, you still have to pretend you're available, but he wasn't available...and that began the problems."
Her attorney accused Usher on the stand last week of bedding one of his wife's pals while they were still married, but his lawyer objected and he did not address the question.
Raymond was pregnant with Usher V when she and the "My Way" singer tied the knot in 2007, reportedly against the wishes of the groom's mother, Jonetta Patton (who was, however, at the couple's low-key civil ceremony in Atlanta).
When Usher filed for divorce in June 2009, court documents stated that they had been separated for almost a year and that he was requesting copies of all of the info about his personal activities he said that Raymond amassed by hiring investigators to track him.
He also asked for joint custody of the kids.