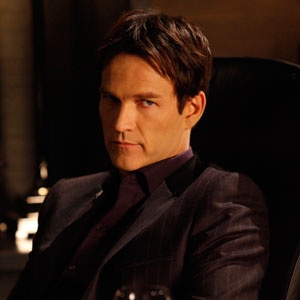 John P. Johnson/HBO
Bon Temps is full of individuals lusting after vampires, but True Blood fans know that not everyone in that town has warm fuzzy feelings toward those with fangs.
In this exclusive look at a never-before-seen Character Perspective from True Blood: The Complete Fourth Season (out now), someone goes on a quite the rant about Bill (Stephen Moyer). Why do they have their panties in a twist over our vamp friend?
Bill keeps taking all the ladies!
Yes sir, Andy Bellefleur (Chris Bauer) has had it up to here with the women in Bon Temps having "vamper fever." In this clip, Andy pours his heart out to the camera, complaining that regular guys stand no chance against someone like vampire Bill due to his never-changing physique, his money and...other things.
To listen to Andy go off about vampires, plus hear which human he thinks is "doing all right" with the ladies, check out our exclusive look at his Character Perspective.
True Blood's fifth season premires on HBO on June 10.