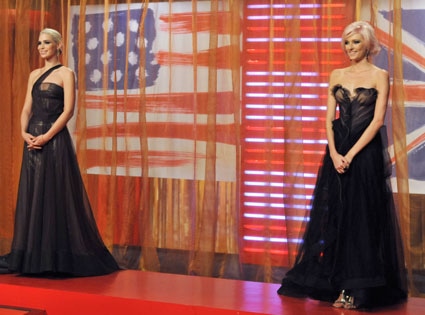 Walter Sassard/The CW
It was finally time to crown a new Top Model, after a battle royale between U.K. contestant Sophie Sumner and American contender Laura LaFrate.
But we couldn't get there before a little bit of drama (and more booty shaking from Laura).
So what happened? And who ultimately won it all?
While Sophie recorded the dialogue for her CoverGirl commercial (which was fantastic—but then again, she could say the most crude things ever and it would still sound absolutely amazing), Laura was shooting the ad for the makeup line.
And right when she finished, Laura started having a panic attack. Yeah, seriously. The crew even took her to the hospital—but don't worry, she was fine and got back into the game soon afterward.
The girls did a shoot for Vogue Italia, and Laura blew it out of the water. Whether it was the fact that they were half-naked or that Laura knew she had to bring her A-game after what happened the day before, she definitely reminded Sophie (and all of us) that this was still a competition.
Once the photo shoots and commercials were a wrap, it was down to the nitty-gritty—aka the runway show.
Sophie and Laura would be strutting the catwalk for Forever 21, and timing was everything. Besides trying to look fierce with each step, they each also had to walk at a pace that goes with a spotlight that's aimed at them to highlight their shadow behind them. The ladies also less than 90 seconds for wardrobe changes. And! They had to have fight scenes with computerized warriors on stage (random, we know).
Can you say stressful?
Luckily, both Laura and Sophie got through it without any hiccups (or panic attacks) and we finally learned took home the prize...
Congratulations, Sophie Sumner!
Do you guys agree with Sophie being crowned Top Model? Sound off in the comments!