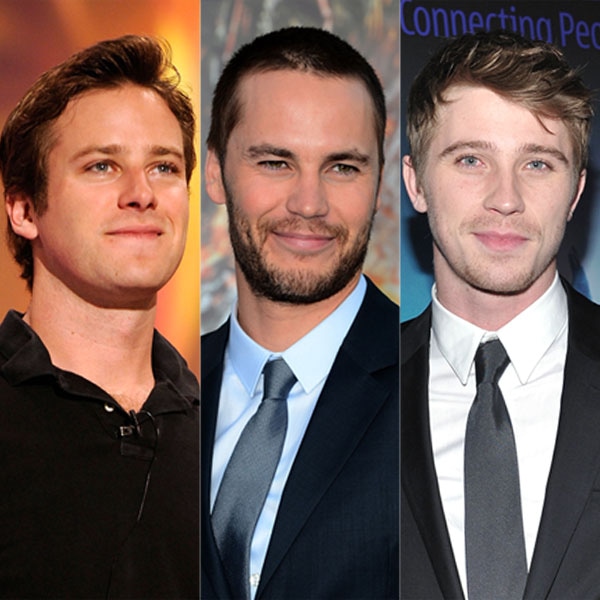 Frazer Harrison, Michael Caulfield, John Sciulli/Getty Images
Has The Hunger Games sequel Catching Fire found its Finnick Odair?
Not just yet, but it sounds like the movie franchise's studio Lionsgate could be getting close to finally picking its man to play the dreamy tribute...
A source tells us at that the top three names being bantered about right now are Armie Hammer, Taylor Kitsch and Garrett Hedlund.
The source also says that a final decision from the studio may be announced as early as this week.
However, another source says the studio may also be looking at unknowns à la Brad Pitt in Thelma & Louise.
Filming is scheduled to begin in the fall with Francis Lawrence taking over the directing reigns from Gary Ross.
Catching Fire will be released on Nov. 22, 2013.
All three actors come with star status. Hammer will next be seen playing the title role in the Lone Ranger flick opposite Johnny Depp as Tonto. Tron Legacy's Hedlund was also a big Cannes Film Festival headline with the premiere of On The Road with Kristen Stewart and Kirsten Dunst while Kitsch can currently be seen in Battleship.
Reps for the three did not comment.
A Lionsgate rep said, "As with the first film, we won't be confirming, denying or commenting on any casting rumors for this title. We will announce news wide when there is official casting news to announce."
Robert Pattinson recently told USA Today that rumors he was in talks to play Finnick were not true.
Now we want to hear from you. Who do you think would make the better Finnick—Hammer, Kitsch or Hedlund? Or do you think an unknown is the right way to go? Sound off below.