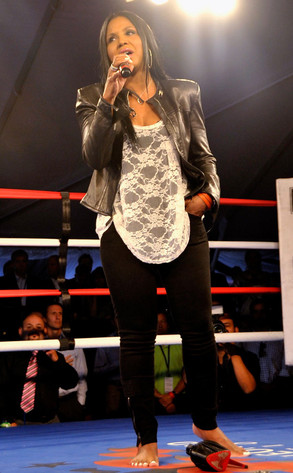 John M. Heller/Getty Images
Singing the national nnthem has become practically a singer's true test—from American Idol alum Pia Toscano to Idol judge Steven Tyler and even Christina Aguilera, who flubbed the lyrics but still sang her brains out. And these aren't the only stars who offer their vocal cords to America's "The Star-Spangled Banner" with style.
R&B icon Toni Braxton wowed the crowd this week with her vocals (and her fine self) at the 3rd Annual Sugar Ray Leonard Big Fighters, Big Cause Charity boxing night, which benefits the Sugar Ray Leonard Foundation, at the Santa Monica Pier in Souther California.
And the Brax gets some special props...