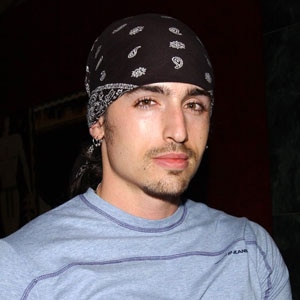 KMazur/WireImage
Well, here's a place where he doesn't want the girls stopping by.
Brad Fischetti, a member of "Summer Girls" group LFO, made headlines this week when Buzzfeed realized that the Orlando resident appeared to be live-tweeting the happenings at a local abortion clinic, identifying doctors and patients by name and posting some women's pictures online.
In a statement to E! News, Fischetti, 36, denies harassing any women outside the clinic, but he adamantly stands by his anti-abortion views and says he regrets not speaking out more when LFO was at the height of its fame.
"Most times I just pray," he tells E! of his activities at the clinic. "And when I do speak, it's only God's Word and/or letting the girls and guys know that there are other options. That we are here if they need help or to talk or to pray. That we have people ready and waiting and willing to help."
Fischetti says that he and his fellow abortion opponents offer women information about pregnancy crisis centers, where they can get free ultrasounds and other prenatal care.
"I don't yell. I don't judge. I just offer help if they want it and pray. Pray constantly," he reiterated. Fischetti calls the abortion process "disgusting," and believes that it was never intended to be "what it has become" when it was legalized.
The tweets in question were posted in late April through the first few weeks of May.
"MON I startd askng 4 ur prayrs," Fischetti wrote on April 25. "TUE no abortions. 2day, late term day closd! 2mrw closed! Othr clinic ownd by DR closd! ur prayers r wrking!"
The following day, he tweeted, "Bad news. Clinic open & slammed. Nurse told [fellow protester] John Barros 'We can't let them '2nds' (trimester) get away. 2 much $ n them. Please pray." Then, on April 30, "John was assaulted w a donut @ the clinic. Sounds funny but the guy who threw it also threatened his life. Prayers pls."
"The abortionist just arrived. Look him up on your phone," Fischetti tweeted on May 2, giving the doctor's name.
Before he responsed to the media attention today, his most recent abortion-related tweet was May 16: "50 girls waiting to have abortions at this one clinic today. Please pray for a softening of hearts. 2 chose life so far."
Sgt. Vince Ogburn of the Orlando Police Department tells E! News that they have not been receiving complaints lately about protesters outside of abortion centers.
"As long as an individual is on the sidewalk and not on the property or inside of the business, they are allowed to take photos of anyone," he said.
"I really don't care what people think of my stance against it," Fischetti's statement to us continued.  I may lose family and friends. But I am obligated to speak the truth. If I have a platform of 500 or 5,000, my job is to speak the truth...Although I regret not having stronger convictions when I had a platform, I wouldn't change anything. I am content with who I am and where I am. I haven't read what the other side is saying about me but I don't care and I don't judge them or anyone. I only want people to know the truth and I only want to help. And I'm content doing so in my little bubble in Orlando."
LFO lead singer Rich Cronin died at 36 in September 2008 after battling leukemia. "Thx u 4 all the kind messages," Fischetti tweeted at the time. "Devin [Lima] & I will miss our brother Rich. May he rest n peace with our Lord n Heaven. Please pray for his family."
—Additional reporting by Marcus Mulick